China morning round-up: Li talks growth at Boao Forum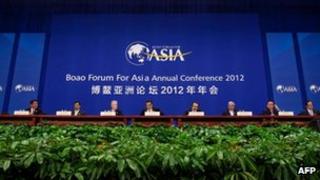 Most of Tuesday's newspapers lead on Vice-Premier Li Keqiang's speech at the annual conference of the Boao Forum for Asia.
China DailyandPeople's Dailysay Mr Li's speech focused on sound and sustainable development for Asia.
Beijing Timeshighlights Mr Li's emphasis that China is still on the path of economic growth, whileGuangzhou's Southern Metropolis Dailysays Mr Li stressed the word "openness".
"Openness has been vital to Asia's fast growth in the past and it will continue to be crucial for the area's further development," Mr Li told the forum.
As Mr Li stressed the importance of boosting domestic demand,China Dailyreports the Commerce Ministry launched a month-long consumption stimulus programme but does not elaborate.
Also from Boao, as theShanghai Morning Postreports, a senior energy official said that developing nuclear power in China was an unavoidable trend.
Hong Kong's Ming Pao Daily Newssays Kazakh Premier Karim Massimov managed to impress the crowd as he addressed the Boao Forum in Mandarin Chinese. Mr Massimov used to study in China in the 1980s.
As people across China are enjoying the Qingming Festival holiday - the annual event during which people pay tribute to the deceased at their graves -China Youth Dailyand others examine how residents in Beijing are forced to bury their loved ones in nearby Hebei and Tianjin due to sky-rocketing graveyard prices in the capital.
One cemetery sitting on the boundary between Beijing and Hebei has reached the price tag of 36,000 yuan ($5,716; £3,561) for each grave, reports say, and they are selling very well.
An editorial in Beijing Newscalls for more municipal welfare cemeteries to be set up in order to relieve the problem.
Southern Metropolis Dailysuggests that the same problem exists in the southern metropolis of Guangzhou, and from funeral to burial, it costs as much as 100,000 yuan ($15,878; £9,897) for each of the deceased.
Also onSouthern Metropolis DailyandMing Paois the death of renowned Buddhist master Ben Huan in Shenzhen. He was 106.
Some 100,000 Buddhists from Guangdong and nearby Hong Kong and Macau are flocking to mourn him, reports say.
The Standardin Hong Kong also reports that students taking the first ever Hong Kong Diploma of Secondary Education Examination are worried because they were questioned on their views on political parties during the liberal studies exam on Monday.
The Examinations and Assessment Authority reassured candidates that their political stance would not affect the marking, saysMing Pao.