China morning round-up: 'Sacking Bo Xilai is right'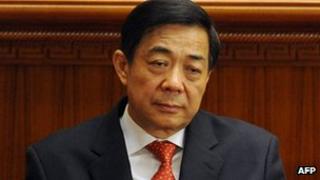 Newspapers on Thursday emphasise that Beijing's decision to suspend Bo Xilai from the Politburo has received "firm support" across the country.
People's Daily claims that "party members, cadres and the masses" believe Beijing made a "visionary, wise, decisive and timely" decision.
It also says that people in Chongqing have chosen to do their best to maintain "overall political and social stability".
Local newspapers run stories on similar lines, including Beijing Times , Shanghai Morning Post and last but not least Chongqing Morning Post .
People's Daily also runs yet another front page commentary urging people across China to ensure a "good situation of reform, development and stability".
The article, like a similar piece on Wednesday, is reprinted in many regional and local papers.
An editorial in Hong Kong's Ming Pao Daily News says Mr Bo's downfall proved that absolute power can lead to absolute corruption. Beijing must push for political reform immediately, it says.
In other news, China Daily and People's Daily report the latest maritime stand-off in the South China Sea between China and the Philippines .
China Daily's editorial warns Manila not to "play with fire", while the Global Times' bilingual editorial says China will "resolutely fight a war" should the Philippines or Vietnam provoke one.
The editorial's Chinese version , in particular, says: "China only has to do things in its own way when protecting its rights in the South China Sea. Whoever blocks its way, it will go into a stand-of with that country unceremoniously."
"However, China will never escalate things with a misfire."
China Youth Daily and the Hong Kong Standard cover President Hu Jintao's meeting with Hong Kong's Chief Executive-elect Leung Chun-ying in Beijing.
Mr Hu told Mr Leung that Beijing had "placed high hopes in you", reports say.
People's Daily Overseas Edition lists three key challenges faced by Mr Leung, which include improving the economy, healing social woes and maintaining Hong Kong's "core values".
Shanghai Daily and Shanghai Morning Post lead with a dramatic protest, when a group of passengers who were not happy with their flight delay compensation stormed the taxiway of Shanghai's Pudong International Airport.
A plane which has just landed on the runway managed to stop as it was greeted by the angry passengers. The newspapers are unhappy that the passengers have not been punished for their act.