China morning round-up: Anti-graft talk republished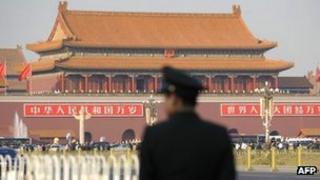 State newspapers lead on a speech by Premier Wen Jiabao from late last month that is republished by leading Communist theory magazine Qiushi, or "Seeking Truth".
The article, entitled "Let the power be exercised under sunshine", is regarded as an "important" article by Mr Wen, according to the People's Daily and other papers that carry the same report.
The article was actually done by the magazine based on a speech that Mr Wen made on 26 March as he chaired the State Council's annual conference on anti-corruption work.
Corruption is "the most crucial threat to the ruling party", said Mr Wen, and the principle of "fighting corruption and building clean government" should be fully embodied when drafting legislation and regulations, social and economic policies as well as other important measures of reform.
Accompanying the report on Mr Wen's speech in the People's Daily is yet another round of "anti-rumour" reports.
One on the front page gives an account of 10 recent rumours that had widespread effects in China, the other urges the public to understand the threat posed by internet rumours to society.
News from neighbouring North Korea occupies many front pages in regional newspapers, after new leader Kim Jong-un delivered a public speech for the first time on Sunday. China Daily describes the speech as a "boost" to the new leadership.
The bilingual editorial in the Global Times says changes in Pyongyang should be encouraged.
"The announcement of the rocket launch and its subsequent failure were accompanied by strong protests from the US, Japan and South Korea. But the announcement itself and the admittance of failure were seemingly signs of change brought by the new leader," says the editorial.
"Such signs of opening up should be encouraged by the world."
Papers ranging from Shanghai Morning Post to Guangzhou's Southern Metropolis Daily also report on the latest investigation by China Central Television (CCTV) which exposed the use of leather waste-products to make gelatine, which eventually ended up as plastic capsules used for medicine.
Capsules made with the gelatine are found to have high levels of toxic metal chromium, reports say, and police are carrying out further investigations on CCTV's findings.
Editorials in Beijing Times , Southern Metropolis Daily and others all criticise the lack of law enforcement, as the law has long outlawed the use of industrial gelatine. They also look at how one of the factories involved was set on fire just before police arrived to investigate CCTV's broadcast.