China overturns death sentence of entrepreneur Wu Ying in fraud case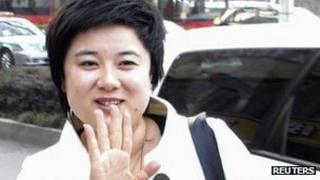 China's Supreme Court has overturned the death sentence of a businesswoman whose conviction for multi-million-dollar fraud a caused a public outcry.
The case of Wu Ying, 31, will be retried in her home province of Zhejiang in south-east China.
She was arrested in 2007 and found guilty of fraudulently raising 770m yuan ($122m; £79m) for her businesses from private investors.
Private fund-raising is illegal but common in China.
Wu Yongzheng, Ms Wu's father, said on Chinese micro-blogging site Weibo that he was relieved to hear the Supreme Court's decision.
Ms Wu's supporters had said that the law was being enforced selectively, and that corrupt Communist Party officials often escaped punishment.
She was initially charged with "illegally absorbing deposits from the public", but charges later escalated to financial fraud and fraudulent fundraising.
The indictment said she had raised money fraudulently from 11 people, with unreasonably high interest rates promised.
In 2009, she was sentenced to death for illegal fundraising.
Ms Wu, who was raised in a rural area in Dongyang in Zhejiang, dropped out of school and built a business empire starting with a salon.
Her business included the Bense Group, which runs hotels, wedding planners, laundry shops, a logistics company and other investments.