China morning round-up: Illegal workers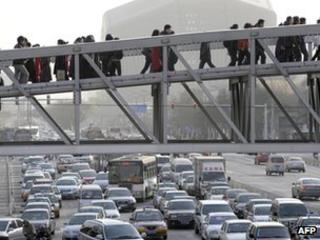 China's police agency vows to crack down on illegal foreign workers across the country, Thursday's newspapers report.
Shanghai Daily says Vice-Minister of Public Security Yang Huanning told the Standing Committee of the National People's Congress on Wednesday that the crackdown will include improving visa policies and strengthening border controls.
People's Daily says police agencies across the country have investigated some 20,000 incidents of foreigners illegally entering, living or working in mainland China.
Those working without a proper visa were mainly involved in foreign language education, acting, housekeeping for expatriates and labour intensive industries, it said.
Beijing News says Mr Yang said the police ministry would set up repatriation facilities in regions that have large numbers of such illegal foreign workers.
China Daily and People's Daily continue their coverage of the ongoing European tour by Premier Wen Jiabao, as he arrived in the Polish capital, Warsaw.
A front page commentary in the People's Daily Overseas Edition said it was the right time for European countries to "deepen" their co-operation with China as Chinese leaders conducted a series of high-profile visits in the region.
In the wake of the tours by Mr Wen and Politburo member Dai Bingguo, Vice-Premier Li Keqiang will also embark on a visit to Russia, Hungary, Belgium and the European Union headquarters in Brussels, the commentary said.
In the South China Sea, the Global Times says the ongoing stand-off between Chinese and Filipino vessels over the disputed Scarborough Shoal "bubbled up" on Wednesday, as the Philippines and the US began a joint military drill.
Three vessels in total are still at the shoal, Beijing News reports, while China Daily said Deputy Foreign Minister Cui Tiankai had appealed for restraint from parties involved.
"China did not start the current stand-off in the South China Sea. We would not like to see more tensions in that region," Cui Tiankai said. China was still committed to resolving disputes in the region through dialogue and diplomacy, he said.
A People's Daily report filed from the Philippines claims local residents do not agree with politicians' approach to the conflict.
And a commentary from the same paper attacks "some countries'" attempts to "internationalise" the South China Sea dispute as a "strategically short-sighted" act.
Papers ranging from the Beijing Times to the Hong Kong Standard also go big with the arrival of a 2,500-year-old skull fragment believed to be that of Sakyamuni the Buddha in Hong Kong.
This is the first time that the relic has been shown outside mainland China. Gyaltsen Norbu, the Beijing-backed 11th Panchen Lama, is in Hong Kong to bless the relic.