China morning round-up: Sino-Russian friendship growing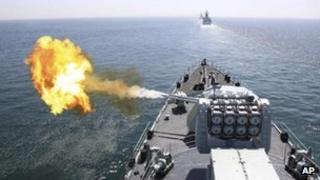 National newspapers in China play up a picture of ever warming relations between China and Russia on Friday, as Vice-Premier Li Keqiang begins his visit to Moscow.
Quoting Mr Li, China Daily says that business opportunities will emerge from the economic development of China and Russia, and both countries will benefit from increasing prosperity and global influence.
It says bilateral trade between the two countries surged by 42.7% in 2011, from a year earlier, to $79.25bn.
People's Daily says Mr Li - who is tipped to be China's next premier - will be meeting incumbent Russian President Dmitry Medvedev, as well as President-elect Vladimir Putin.
Meanwhile, the paper also reports on the joint naval parade in the Yellow Sea, which is part of a Sino-Russian naval exercise.
Before the Thursday parade, the two navy forces held a live-fire drill, which involved a simulated anti-pirate operations, Beijing News and others report.
A spokesman for China's Defence Ministry has insisted that the joint naval drill has nothing to do with regional situations, reports the People's Daily .
China Daily's editorial hailed such a picture as a proof of Beijing's growing relations with Moscow.
"Thanks to their close co-operation in the UN and other multilateral platforms including the Shanghai Cooperation Organization, China and Russia have become an indispensable force in the quest for a multi-polar world," said the editorial.
As Li Keqiang begins his Europe trip, Wen Jiabao, the incumbent premier, is about to conclude his own Europe visits.
Shanghai Daily reports that Mr Wen has announced a multi-billion-dollar investment fund dedicated to central and eastern European states.
Back in Beiijng, China Daily and People's Daily report further vows from the military on safeguarding Beijing's "oceanic rights" in the South China Sea.
Regional and local papers such as the Beijing Times have also mentioned the warning from the Foreign Ministry, asking the Philippines "not to play tricks" in the ongoing stand-off at the disputed Scarborough Shoal.
The Global Times says that Manila will make use of the upcoming Washington visit by its foreign and defence ministers to seek for material support from the US, which would include sales of surveillance vessels and F-16 fighter jets.
But an analysis from Hong Kong's Ming Pao Daily News suggests that Beijing will avoid engaging in any battles in the South China Sea as it wants a stable power transition at the Communist Party conference to be held later this year.