China morning round-up: Chen Guangcheng's departure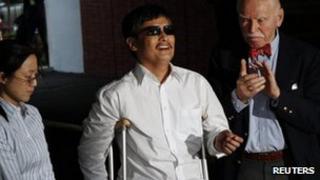 Newspapers in mainland China make almost no mention of the departure of blind activist Chen Guangcheng , but Hong Kong papers such as The Standard and Ming Pao Daily News carry significant coverage of this story.
Mr Chen and his family flew to the US on Saturday, almost a month after he first fled house arrest to the US embassy in Beijing.
Nationals dailies such as China Daily and People's Daily carry no reports on the case.
A bilingual editorial in the Global Times, however, describes it as "nothing but a colourful bubble".
"A few American officials, human rights advocates, Western media, and some domestic supporters as well, have set the tone for encouraging Chen's challenge from the beginning," it said. "Though they vow to seek a solution, their actions encourage confrontation."
"The majority of Chinese have a mature and stable judgment of this country. That is why dissidents, who often create a sensation in the Western media, fail to make a dent among the Chinese."
Hong Kong newspapers report that Mr Chen and his family were received by supporters at the New York University residence.
But they also reported comments from Chinese Tiananmen Square activists Wu'er Kaixi and Chai Ling expressing disappointment that Mr Chen had been "encircled" by US security officers.
Chen Guangcheng "seems to be under someone else's control", said Ms Chai, as quoted by Ming Pao Daily News.
The release of 29 Chinese fishermen detained in North Korea is covered across the nation, but no details of who the captors were are given.
Newspapers such as Shanghai Daily and Beijing News run brief reports on the release, saying that North Korea's foreign ministry has confirmed it to the Chinese embassy. The boats were expected to reach Dalian in Liaoning province by Monday afternoon, the reports said.
An extensive report in the Shanghai Morning Post says some fishermen in Liaoning admitted they did sail into North Korean waters for better harvests, but insisted that the three boats captured in the most recent incident were in Chinese waters.
A bilingual editorial in the Global Times says China should fix loopholes exposed by the incident.
"The first is that the law enforcement authorities at sea are unable to protect fishermen while North Korea just turned a blind eye to them," said the editorial. "The second problem is that the emergency mechanism for protecting fishermen is flawed. It fails to act when any emergency occurs."
National papers including China Daily and People's Daily focus on remarks by Premier Wen Jiabao appealing for greater emphasis on "stabilising economic growth".
Mr Wen's requests include expanding domestic demand, stabilising foreign demand and cooling the country's property market, reports the Beijing Times .