Chen Guangcheng exit: Chinese netizens react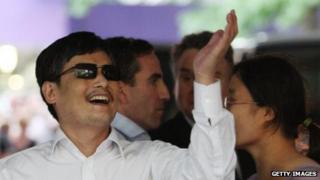 China's state media have been largely quiet about the blind activist Chen Guangcheng's arrival in the United States, but many internet users have been expressing relief and good wishes for him and his family.
The official Xinhua news agency filed a one-line report on 19 May, which simply said, "Chen Guangcheng, a native of Yinan county of east China's Shandong Province, has applied for study in the United States via normal channels in line with the law, according to sources from relevant departments."
Few media outlets have mentioned Chen's arrival in New York, possibly because Beijing wants to give it as little publicity as possible.
A notable exception is Caixin, an outspoken pro-reform magazine based in Beijing, which reported on Chen's arrival and the welcome he received from supporters including US politicians.
Caixin's editor-in-chief Hu Shuli retweeted the report on Sina Weibo, China's Twitter-like microblogging platform, adding a one-word comment: "blessing".
'Bespectacled hero'
Hu Shuli's good wishes have been echoed by many internet users who expressed their feelings online despite strict censorship.
Chen's name is a "sensitive word" and is automatically blocked by online censors, so netizens have come up with various inventive ways to refer to Chen without mentioning his name.
"Congratulations to the bespectacled hero and his family! Now you are free from the red terror!" one microblogger said.
"I salute you! Compared with you, we are all cowards. You have fulfilled your duty. Hope you will live a normal life over there," said another.
Some have questioned why Chen has had to leave his country.
"China can tolerate corruption and deception, but not a righteous and kind person," a netizen wrote on Weibo.
"The fighter is gone. He has got freedom, but China remains the same. Not sure if I should be happy or sad," said another user.
'Fade out'
The online voices are not unanimously in support of Chen. Some netizens accused him of betraying his country.
"Taking foreigners' money and kissing foreign arses. What kind of hero is that?" said a Weibo post.
"I wonder what will happen when Grand Lawyer Chen no longer has value to America," a blogger wrote sarcastically.
There are real fears that Chen might not be allowed back and will lose his influence in China as did many exiled dissidents before him.
"He will fade out from Chinese politics," wrote a Weibo user.
Some have predicted that Chen will become less outspoken for fear of retribution against his family members who are left behind.
"He will no longer make comments that make the government unhappy, because he still has relatives back home who will for ever serve as hostages," said a microblogger.
But Chen's fellow activists remain optimistic.
Hao Jinsong, an activist lawyer in Beijing, wrote on Weibo, "In a new environment and new life, I believe Chen will make some accomplishments. One day sooner or later, Chen will come back to China."
BBC Monitoringselects and translates news from radio, television, press, news agencies and the internet from 150 countries in more than 70 languages. It is based in Caversham, UK, and has several bureaux abroad. For more reports from BBC Monitoring, click here