China frees Standard Chartered banker Eden Wu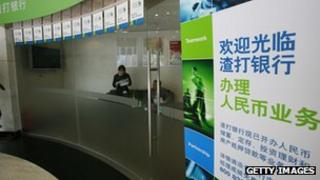 China has released a Singaporean banker who had been held without charge since March in a fraud case.
The authorities held Standard Chartered banker Eden Wu after one of her clients fled with millions of dollars.
The client is thought to be a senior banker called Sun Feng, who Chinese officials believe stole about $50m (£30m) before fleeing the country.
Ms Wu's fiance said in a blog that the authorities in the eastern city of Wuxi had cleared her of any wrongdoing.
But he said she would not be allowed to leave China for a year.
"They have determined that she has not done anything wrong and have released her, yet they are preventing her from leaving even after holding her for 79 days," said Jason Tan.
Reports say Ms Wu is also not allowed to speak to journalists, and was freed only after paying $7,000 bail.
Standard Chartered confirmed that she had been freed, but said it could not comment any further.
Reports say Sun Feng, a former executive of the state-owned Agricultural Bank of China, was one of Ms Wu's clients.
Interpol issued a red notice seeking his arrest earlier this year.