China: Worker's death sparks Wenzhou protest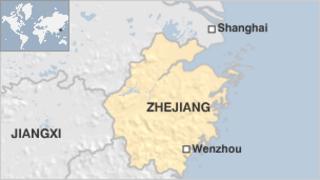 Some 1,000 workers went on the rampage in China following the death of one of their colleagues allegedly over a wage dispute, state-run media say.
The mob stormed a government compound on Monday and overturned cars near the city of Wenzhou in Zhejiang province, Xinhua news agency reports.
The incident was sparked by a fight over wages between migrant worker Yang Zhi, 19, and his boss at a bag factory.
Mr Yang suffered a head injury and died in hospital two weeks later.
According to Xinhua, it is claimed that Mr Yang, from Hunan province in central China, was hit on the head by his employer on 12 May when he tried to get his 1,070 yuan ($168.30, £108.12) salary.
Police detained the employer a few days later, but this did not appear to have satisfied the dead man's colleagues.
They stormed a government compound, throwing stones and bricks and overturning cars. They are asking for the boss to be severely punished for their colleague's death.
The protest has now ended, Xinhua says, with Mr Yang's family given nearly $50,000 in compensation.
There are tens of thousands of similar protests every year, where people's anger boils over at a perceived injustice, according to the BBC's Michael Bristow in Beijing.
This particular incident may be over, but it shows that China is not always as stable and peaceful as the country's leaders would like, he adds.