China morning round-up: Shangri-La Dialogue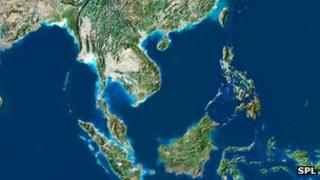 Chinese newspapers report on the Shangri-La Dialogue , as the South China Sea issue is expected to dominate the agenda of this annual defence conference in Singapore.
The Shanghai Morning Post says US Defense Secretary Leon Panetta is participating in this year's conference "in a high-profile manner".
It points out that while most of the Dialogue's themes for discussion are "contrary to China", whether other countries would join forces to press China on the South China Sea issue "is still in question".
Hong Kong's pro-Beijing Wen Wei Po newspaper says that the US intends to "muddle up" the South China Sea issue in order to check China's power, making this year's conference "a stage for China-US brawl".
China's Defence Minister Liang Guanglie is not participating in the Dialogue this year. The Global Times reports that the country only sent a delegation led by a senior military science academic.
China Daily reports on a Ministry of Defence press conference in Beijing held on Thursday, where spokesman Yang Yujun appealed to the US "to play a positive and constructive role in the region".
A front page commentary in the People's Daily Overseas Edition says that China's disputes with its neighbours "have nothing to do with the US".
"Issues that arise from the South China Sea need to be solved through negotiations by China with the claimants," states the commentary.
"Intervention by external sources will only make existing contradictions more complicated and sharpen conflicts further, especially when a force of hegemony intervenes."
Also on Friday, China Daily and People's Daily report that the Chinese cabinet has adopted a five-year plan on nuclear security and radioactive contamination treatment.
Beijing News and Shanghai Morning Post say inspections show that some existing nuclear power plants are weak in flood and tsunami protection, but the situation is being rectified.
Shanghai's China Business News suggests that China's nuclear power industry is just one step away from resuming expansion.
In Hong Kong, Ming Pao Daily News and Sing Tao Daily report that authorities threatened a Chinese author not to publish a memoir of disgraced former Beijing Mayor Chen Xitong.
Chen Xitong lead the municipal government during the 1989 Tiananmen student protest. He was imprisoned for corruption and dereliction of duty in 1998, but was granted a medical parole afterward.
Author Yao Jianfu told the two papers that he was pressured by party officials to recall the book, but his Hong Kong publisher Bao Pu said it would go on sale as scheduled on Friday.
Macau newspapers are leading their coverage with the verdict of the third round of a corruption trial of former Transport Secretary Ao Man Long.
Ao Man Long is already serving a 28-and-a-half year sentence in jail. He received another six months from the Court of Final Appeal on Thursday.
Macau Daily Times says Ao Man Long has been found guilty of nine counts of bribe-taking and money laundering, with a jail time totalling 417 years.
Under Macau law, however, the maximum possible jail time is not more than 30 years.
The Jornal Cheng Pou describes Ao Man Long as the "top corrupt official in Asia". Hong Kong's Ming Pao Daily News says the judge ruled that there is concrete evidence to prove that Ao Man Long received bribes from a Hong Kong businessman.