China morning round-up: Diplomatic row on air quality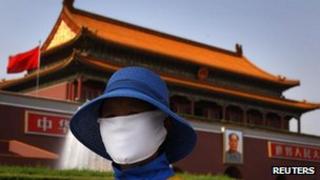 China's request for foreign embassies and consulates to refrain from publishing their own air quality monitoring data has become a hot topic for Chinese newspapers. However, how they wrote about it varies significantly.
Vice Minister for Environmental Protection Wu Xiaoqing first made the comment on Tuesday morning, followed by an reiteration by the foreign ministry's spokesman later in the day.
The comments appeared aimed at the US embassy, which puts out its own figures on pollution levels in Beijing, Shanghai and Guangzhou, even though the officials did not specifically name the US.
The US embassy in Beijing has a monitoring station on its roof and publishes the results hourly on the internet.
China Daily , without mentioning the US, says that the practice is "breaking rules" and is "contravening international conventions".
Shanghai Daily says Mr Wu has told foreign embassies and consulates to "keep quite" on air quality, as the paper points out that US consulates in Shanghai and Guangzhou are also running the same service monitoring fine particulates known as PM2.5 in the air.
Beijing News and Guangzhou's Southern Metropolis Daily say that China "hopes" that foreign embassies can "stop" publishing their own data.
But the Beijing Times and People's Daily Overseas Edition state specifically that China is asking the US to stop doing so.
The Global Times says that even as US embassy spokesman Richard Buangan told the paper that the embassy's data is for the use of their own staff, they also made them available to other US citizens.
Citing both Mr Wu and his superior, environment minister Zhou Shengxian, China Youth Daily says the row was caused by the fact that the US is evaluating their results using higher domestic standards.
Mr Zhou told a conference in Beijing that China's latest standard on fine particulates in the air met the minimum recommended level by the World Health Organization.
The bilingual editorial of the Global Times says that "the US embassy is involving itself in a contentious domestic issue, and continues to do so".
"It is pressing China to accept an action in violation of diplomatic treaties. Chinese authorities should negotiate with the US embassy. It is also in the interests of broader China-US relations," it added.
But the headlines of the editorial differ. The English edition says the row "shows need for government credibility [from China]", while the Chinese edition requests the US "to give positive response to the ministry's appeal".
Hong Kong's Ming Pao Daily News points out that Wu Xiaoqing's comment has met "fierce attack" on the internet, as some Chinese netizens criticised Beijing for "monopolising the air".
At the US State Department's daily press briefing on Tuesday , spokesman Mark Toner said the department did not believe the pollution monitoring reports violated either Chinese laws or the Vienna Convention, and that the embassy would continue to release them.