China morning round-up: Football match fixing scandal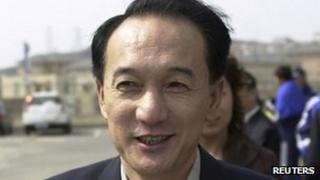 The verdicts in a series of football match fixing and corruption trials have grabbed the headlines in many newspapers across China on Thursday.
Reports from the Shanghai Daily and People's Daily say sentences were handed down simultaneously at courts in four cities in northern Liaoning province.
Among the 11 defendants being sentenced, Nan Yong and Xie Yalong, who were both former heads of the Chinese Football Association, were sentenced to 10-and-a-half years of imprisonment for taking bribes.
Former Chinese national team captain Wei Shaohui also received a 10-and-a-half year sentence for taking bribes, reports say.
Following the verdicts and sentencing, Beijing News says disciplinary actions against football clubs involved "is now on the agenda".
The Global Times says the series of verdicts on Wednesday was "a last-ditch campaign to clean up scandal-plagued Chinese football".
Citing commentators, China Daily also says the crackdown on corruption in football had ''already set the goals of guaranteeing legitimate competition and attracting world-class stars onto China's soccer pitches".
But, a Beijing Times report questioned if the country's effort to wipe out corruption in football had been hastily stopped as these trials draw to a close.
Meanwhile, Guangzhou's 21st Century Business Herald reported on the thriving Chinese premier league business, with internationally renowned players and coaches joining Chinese teams and Chinese property tycoons purchasing football clubs.
On Thursday, China Daily and the Shanghai Morning Post also reported comments from Beijing's foreign ministry that London should be held responsible for deteriorating UK-China relation.
The comments came after the Daily Telegraph reported that ministerial meetings between Britain and China have been cancelled in protest at UK Prime Minister David Cameron's decision to meet the Dalai Lama in May.
The BBC also learned that China has threatened to pull its athletes out of their Leeds Olympic training camp as the Dalai Lama is due to visit the city on Friday.
"China has voiced strong indignation and stern objection to it. Despite China's repeated objection, the British side insisted on meeting with the Dalai Lama," Foreign Ministry spokesman Liu Weimin said on Wednesday.
Guangzhou's Southern Metropolis Daily and Hong Kong newspapers such as Sing Tao Daily carried stories on the alleged force abortion incident in Shaanxi , as photos purporting to show the aftermath sparked an outrage among internet users in China.
Activists say Feng Jiamei, the mother, was forced into the abortion as she could not pay the fine for having a second child.
Hong Kong's Ming Pao Daily News points out that such penalties collected across China could total 20bn yuan ($3.14bn; £2.02bn) each year, but no one knows the where the money was channelled.
The provincial government has now sent a task force to Zhenping county to investigate the claims, say the reports.
In other news, China Daily and Beijing Times say China's cabinet has decided to step up investigations into food safety violations by "increasing the cost of violating the laws and regulations".
Rewards would be offered for those who report suspicious activities, according to the newspapers.
Shanghai Daily and Beijing News also reported that the country's capital Beijing is now hunting for the sole winner of China's biggest ever lottery payout, totalling 570m yuan ($89.5m; £57.65m).