China morning round-up: Shenzhou-9 space module to dock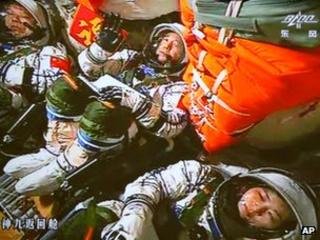 Newspapers across China remain focused on the manned space mission, with the Shenzhou-9 capsule poised to dock with the Tiangong-1 module .
If successful China will become the third country after the US and Russia to achieve docking in space, says the Global Times .
People's Daily Overseas Edition say the three Chinese astronauts will perform 15 scientific experiments in the Tiangong-1 module - China's own experimental space station.
Papers such as China Daily and Beijing Times look at what astronauts did in their first day in space, from how much they slept to what they ate.
Beijing News also mentioned the hunt for debris from the launch rocket.
Chengdu's West China City Daily described some of the systems used in this space mission, as they were manufactured in the city.
China's clock and watch industry could outperform that of Switzerland in terms of accuracy if the atomic clock technology originating from Chengdu could be used in civilian watch production, it says.
The front page commentary in the People's Daily Overseas Edition praised the latest space mission as "an enhancement of China's brand as a nation".
The Global Times' Chinese editorial rebukes the idea that China should spend less on space to solve the more pressing issues in society, such as social equality and human rights abuses.
"There are many claims in Chinese public opinion spectrum that sounds right if not rightly made, but they usually come with the special power of assaulting the country's overall development, and hence are extreme comments," said the editorial.
President Hu Jintao's arrival in the Mexican city of Los Cabos for the G20 summit is also reported by the China Daily and Beijing News .
China hopes the summit will buoy European confidence and supports eurozone countries taking effective measures to overcome their difficulties, reports say.
Shanghai Daily and others also report on an announcement over the weekend that mainland China is to offer Taiwan further economic benefits.
Beijing News says scholars in Taiwan will now be able to apply for academic positions in mainland colleges and universities, and rice grown in Taiwan will also be allowed into the mainland market.
People's Daily and Beijing Times also report on the denial from the railway ministry of reports that it is planning to set up three railway groups to run the country's massive railway networks.
China's railway ministry has long been criticised for its operations, especially after a series of deadly crashes in the past few years, and there have been demands for operations to be separated from the ministry's governance function.