China hails Philippines' pullout in South China Sea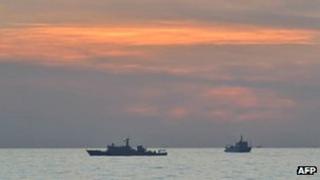 China has welcomed the Philippines' decision to pull out from a disputed part of the South China Sea, saying it hopes that this will ease tensions.
The Philippines withdrew its two ships from the Scarborough Shoal area on Saturday, citing stormy weather.
The Chinese embassy in Manila also said on its website on Sunday that a vessel was sent to tow its fishing boats at the shoal due to weather conditions.
The two countries have been locked in a stand-off there since April.
The Scarborough Shoal, also known as Bajo de Masinloc in the Philippines and Huangyan Island in China, has been a source of ongoing tension in the region.
It lies a little more than 100 miles (160km) from the Philippines and 500 miles from China.
"The Chinese side has been urging the Philippine side to take measures to de-escalate the situation," Chinese embassy spokesman, Zhang Hua, was quoted by local media as saying.
"We have noticed the withdrawal of government vessels by the Philippine side, and hope this action will help ease the tension."
A statement on the website of the Chinese embassy in the Philippines on Sunday said: "Due to inclement weather and strong tide in the Huangyan Island waters, in order to help Chinese fishermen and fishing boats pull out safely for shelter, Nanhaijiu-115 vessel has set out to the area to provide necessary assistance."
However, it was not clear whether China would remove all its fishing vessels from the area.
The Philippines' foreign ministry had said that while President Benigno Aquino ordered the country's two vessels to leave the shoal due to a tropical storm, it did not mean they were giving up the claim.
The current row began when the Philippines said its naval ship had found eight Chinese fishing vessels at the shoal but was prevented by Chinese surveillance ships from arresting the fishermen.
China is engaged in multiple disputes with its neighbours over the South China Sea, and in recent years has grown more assertive on the issue.