Press split on Hong Kong handover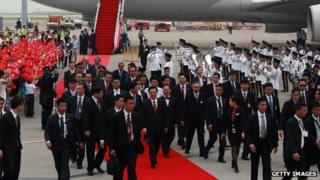 Chinese President Hu Jintao is in Hong Kong for handover celebrations on 1 July. Meanwhile, the new chief executive-elect is still under fire in the local press.
The official Beijing media hails a 15-year success story, amid growing discontent with increasing mainland Chinese influence, but the local press is a good deal more thoughtful and sceptical about the future for China's special administrative region.
Official Chinese media
Yin Shichang in Renmin Ribao
Being masters for 15 years, with 'Hong Kong people ruling Hong Kong', the Pearl of the Orient is resplendent and especially enchanting.
Zeng Fanjuan, Liu Chang in Xinhua News Agency
The mainland and Hong Kong have been able to deal with minor friction and discord calmly and rationally because they have become close during 15 years of tiding over difficulties. The hearts of the two peoples have been getting closer and the psychological gap between the two places is getting smaller and smaller.
Paul Peng in China Daily
In 1995, Fortune magazine carried a cover story prophesying the special administrative region's downfall after the handover of Hong Kong by the British to the Chinese central government. That prophecy has not come true as Hong Kong has continued to go from strength to strength. One of the main reasons for this is the central government has extended vigorous support to the Hong Kong special administrative region
Hong Kong press
Lee Ping in Apple Daily
On the occasion of the 15th anniversary of the handover and Hu Jintao's visit to Hong Kong, taking to the streets to release our cries will make Beijing see the determination of the people of Hong Kong to defend core values.
Editorial in South China Morning Post
As we prepare to mark Sunday's anniversary, our community is ill at ease. Once again, there are fears that our freedoms are under threat and that our promised high degree of autonomy is being eroded. If Hong Kong's high degree of autonomy is respected, our freedoms maintained, our rule of law safeguarded and universal suffrage finally achieved, our city can truly become a model for China's development.
Editorial in Hong Kong Economic Journal
Hong Kong returned 15 years ago, and this historic regime transition and the experiment of "one country, two systems" has on the whole been smooth and successful. To be fair, Hong Kong's core values - freedom, the rule of law, human rights and a just society - have fortunately not been lost so far.
Editorial in Ming Pao
Election of the chief executive by universal suffrage in 2017 must be by genuine universal suffrage and there cannot be a screening mechanism to hinder democrat candidates, otherwise, there will be a bigger backlash among Hong Kong mainstream public opinion, which will push Hong Kong into a state of danger.
Editorial in Oriental Daily News
Fifteen years since the handover, with the incompetent government policies of the Tung Chee-hwa and Donald Tsang governments, worsening social conflicts and widespread complaining among citizens, what the new government has inherited is indeed worthy of being called a mess.
BBC Monitoringselects and translates news from radio, television, press, news agencies and the internet from 150 countries in more than 70 languages. It is based in Caversham, UK, and has several bureaux abroad. For more reports from BBC Monitoring,click here .