China morning round-up: Hong Kong's new leadership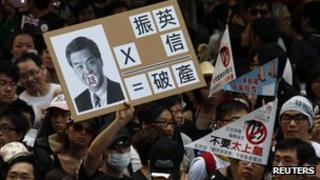 Newspapers lead with commemorations marking the 15th anniversary of Hong Kong's handover to China and the swearing in of the new chief executive.
China Daily and People's Daily lead with the speech delivered by President Hu Jintao on Sunday as he witnessed Leung Chun-ying - also known as CY Leung - take the oath.
Beijing Times says Mr Hu urged Hong Kong to ensure equal opportunities for all citizens, without elaborating.
Hong Kong's South China Morning Post says Hr Hu's speech constituted a call to end the split within the Beijing-loyalist camp, as "maintaining social harmony" was top of the list of his "four expectations" of CY Leung.
Mr Leung's victory in the contest with former Chief Secretary Henry Tang and democratic legislator Albert Ho caused the split, as both Mr Leung and Mr Tang come from the pro-Beijing camp.
In his inaugural speech, Mr Leung said he was taking office with humility, reports Sing Tao Daily . He also believed Hong Kong needed no radical policy changes, it said.
Meanwhile, the lead story in Hong Kong papers is the annual pro-democracy rally which took place on Sunday afternoon.
Mr Leung's newly-inaugurated government was greeted by the third-highest rally turnout since the handover, reports the Ming Pao Daily News .
Questions over CY Leung's credibility after his house was found to have an illegal structure just days before he took office and the unexplained death of Chinese dissident Li Wangyang brought Hong Kong people onto the streets, says Sing Tao Daily .
Some 400,000 people joined the march, said the organiser, while police put the figure at 63,000.
Ming Pao's editorial says Mr Leung's government will have to tackle such a "fierce challenge" carefully.
Responding to anti-mainland sentiment in Hong Kong, the Global Times' bilingual editorial says: "The mainland is sincere in its support for Hong Kong. If Hong Kong suffers a decline, it will be a humiliation for the whole of China."
In other news, China Daily reports the National People's Congress Standing Committee approved an immigration law over the weekend which will allow refugees to stay in China after obtaining identity cards from police.
Sources told the paper that the Ministry of Civil Affairs had set up a team to deal with the increasing number of people coming to the country to seek asylum. The report gave no mention of any particular countries, such as North Korea.
Shanghai Daily says passengers flying out of Shanghai will now have to reach the airport earlier for heightened security checks, but the paper says it is not known if the stricter measures were prompted by an attempted hijacking in Xinjiang on Friday .
China Daily and Sing Tao Daily say car buyers in Guangzhou were angered after the southern city announced sudden licensing curbs late on Saturday.
Long queues were seen outside car dealers overnight as people tried to get hold of vehicles before the 10,000 licences per month limit came into effect at midnight on Sunday.