China morning round-up: A US-China stand-off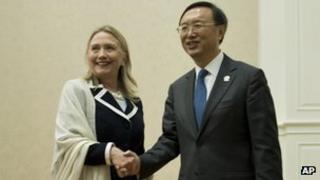 Newspapers report on talks between Chinese Foreign Minister Yang Jiechi and US Secretary of State Hillary Clinton in Phnom Penh, as tension over the South China Sea disputes continues.
During the meeting on the sidelines of the Asean regional forum , Mr Yang told Mrs Clinton that the US should "respect the interests and concerns of China", China Daily and People's Daily report.
Mrs Clinton told the Asean forum that countries involved in disputes in the South China Sea should "work collaboratively and diplomatically to resolve disputes without coercion, without intimidation, without threats and without use of force''.
The China Daily editorial describes her remarks as "inappropriate and ill-intentioned".
"China has made it clear the South China Sea disputes should be solved at the bilateral level," the editorial says.
"Any attempt to engage third parties would further complicate the issue and disturb the process leading to peaceful solutions."
Meanwhile, People's Daily publishes an analysis from their Thailand correspondent, saying that Mrs Clinton's ongoing visits in the region are "diplomatic offensives" aimed at "scrambling for influential power from China".
As the Asean leaders discuss the ongoing dispute, China Daily and People's Daily also report that 30 fishing boats had set sail from Sanya in Hainan province for a 20-day fishing trip in waters of the disputed Spratly islands.
While in the East China Sea, the Beijing Times says China's agricultural ministry announced that a Chinese fishery patrol boat will keep watch near the disputed islands known as Diaoyu in China and Senkaku in Japan.
Hong Kong's pro-Beijing Wen Wei Po newspaper reports that Japan is planning to allow citizens to host memorial services for soldiers of war on the islands, which the paper says would be an act "as harmful as visiting the Yasukuni Shrine".
China sees the controversial Yasukuni Shrine in Tokyo, a memorial to Japan's war dead, as glorifying war criminals.
A People's Daily commentary describes Tokyo's recent actions regarding the Senkaku dispute as acts of cowardice.
In Hong Kong, papers like The Standard report on the arrest of Hong Kong's development secretary, Mak Chai-kwong, by the Independent Commission Against Corruption (ICAC) for alleged abuse of a civil service housing allowance.
Guangzhou's Southern Metropolis Daily also promotes this story on their front page. Chief Executive CY Leung has declined to comment on Mr Mak's arrest, it said.
The minister had since resigned after 12 days in office. Ming Pao Daily News' editorial says this is a heavy blow to Mr Leung's young administration.
But Wen Wei Po's editorial says Mak Chai-kwong's resignation "is only an individual incident".
Another top story is the report on the death of Chinese blind dissident Li Wangyang published by a Beijing-backed news agency in Hong Kong on behalf of the Hunan province police.
The China Daily Hong Kong Edition says the report upheld the previous conclusion that Mr Li's death by hanging "was a suicide".
Forensic experts in Hong Kong cast strong doubts on the findings, Ming Pao Daily News reports.
Chris Lam Kin-seng, a senior Hong Kong TV journalist who did the last interview with Mr Li before his death, criticised the Hunan report for "lying", says Ming Pao .