China morning round-up: Olympic gold medal debate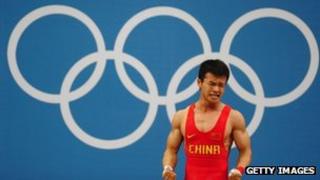 Chinese newspapers discuss the pressure the nation's athletes are facing after some apologised publicly for losing at the London Olympics.
As China Daily reports on its front page, weightlifter Wu Jingbiao apologised in tears for "letting down his fans and his country" in a TV interview after winning silver in the men's 56kg weightlifting event.
The gold medal went to North Korea's Om Yun-chol .
Also in focus is women's weightlifter Zhou Jun, who went off with no medals after failing to complete a lift at the 53kg event.
People's Daily Overseas Edition says the problem of "gold medals come first, championism and local interests" have eaten into "the holy spirit of sportsmanship", causing immense pressure on Chinese weightlifters.
The Global Times's editorial says: "Chinese society is maturing. Competing for success is encouraged. Failure is also met with more sympathy and acceptance."
Also on Tuesday, People's Daily reports a group of senior military and paramilitary police officials received promotions at a ceremony hosted by President Hu Jintao and Vice-President Xi Jinping.
Liu Yazhou from the National Defence University was promoted to general. Hong Kong's Ming Pao Daily News says Gen Liu is a controversial figure as the former writer published books that embraced the idea of democracy and advocated political reform.
Also in the People's Daily is a report on the latest cabinet meeting, which again calls for more individual investment amid a possible economic downturn in China.
Hong Kong's Sing Tao Daily and Ming Pao Daily News also report a Hong Kong journalist asked Zhou Qiang, the Communist Party chief in China's Hunan province, questions about the suspicious death of Tiananmen dissident Li Wangyang .
The question was asked amid "repeated warnings from the authorities" not to ask such questions at the press briefing in Changsha.
Mr Zhou insisted Li Wangyang "committed suicide", said the reports, although recently published findings from Hunan police were heavily questioned by Hong Kong politicians and media.