China morning round-up: Olympic return for Liu Xiang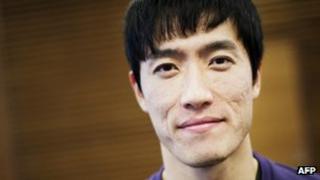 Chinese hurdler Liu Xiang is in the spotlight again as he prepares to compete in the men's 110m hurdles heats, four years after his withdrawal from the Beijing Games.
China Daily says if all goes to plan, Liu will run in the final on 8 August - an auspicious day as it marks four years since the Beijing Games opened in 2008.
Guangzhou's Southern Metropolis Daily says it is time for Liu "to hit back at criticism", while Shanghai Morning Post says Liu told his father ahead of the event that his foot injuries were recovering well.
Beijing News reports the failure of China's gymnast Chen Yibing to defend his men's rings gold, before his retirement.
The Chinese delegation asked why Brazil's Arthur Nabarrete Zanetti won gold as he stepped forward on dismount.
People's Daily publishes a series of reports and commentaries criticising what it calls "faulty judgement" by referees and judges throughout the London Games.
A report in the Overseas Edition calls it "referee-gate"; a commentary in the domestic edition says people have gone "selectively blind" over China's genuine achievements.
A front-page commentary in the Overseas Edition says China "grows in confidence amid bias", saying Western societies "always biased towards anything related to China".
But a commentary in China Youth Daily says it is "too tiring" to watch the Olympics with a "victim mentality".
Although senior Chinese leaders have reportedly begun their annual summer meetings in Beidaihe resort, Tuesday's newspapers gave no mention to the gathering.
Instead they report a high-level probe into the detention of a mother protesting for justice for her daughter, who was gang-raped and forced into prostitution in 2006 at the age of 11.
The Global Times and Beijing Times report provincial investigators were despatched to Yongzhou city after learning that the mother had been sentenced to 18 months of "re-education through labour".
She was detained last week after she stopped a car carrying a local Communist Party conference delegate to protest, reports said, triggering a public outcry on the internet.
Shanghai Daily says two men have been sentenced to death and four others imprisoned for life. The team will also investigate whether police falsified evidence to secure a shorter sentence for another man jailed for 15 years, it said.
Both editorials in the Beijing Times and Beijing News urge a thorough investigation. Beijing News says the "re-education through labour" punishment must be replaced as soon as possible.
The Global Times' bilingual editorial says: "It's worth noting that China's petition and labour re-education system both have loopholes and can easily lead to controversies."
Also on Tuesday, Shanghai Morning Post and Beijing News report the Public Security Ministry has launched a nationwide crackdown on drug-driving. Drug addicts will be required to surrender their driving licences, reports say.
Shanghai Daily and Shanghai Morning Post also says some 200,000 people have been evacuated as Typhoon Haikui approaches.
The papers say Typhoon Haikui is likely to bring more rain on top of that brought by last week's double typhoons - Damrey and Saola.
In Hong Kong the Standard and Ming Pao Daily News say local authorities are still working on clean-up efforts after Typhoon Vicente caused a spill of 150 tonnes of plastic pellets from a cargo ship.
There has been public anger over the incident as it took two weeks for the government to confirm the spill, reports say.