China morning round-up: Liu Xiang's nightmare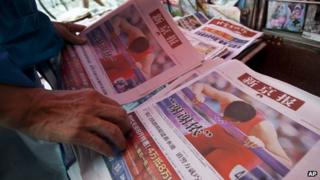 Most newspapers lead with Chinese hurdler Liu Xiang's fall in his heat at the London Olympics.
The 2004 Athens Games gold medallist fell at the first hurdle in the 110m race, then had to hobble down to the finishing line.
China Daily and many others publish a photo of Liu kissing the final hurdle as he reached the end of the track. People's Daily Overseas Edition says many foreign media hailed the 29-year-old athlete a hero even though he failed.
In his native Shanghai, the Shanghai Morning Post said on its front page that his health was the most important thing.
The Beijing Times, Guangzhou's Southern Metropolis Daily, and the Global Times all appealed for people to forgive Liu's failure in their editorials.
Meanwhile, People's Daily reports the academic journal Nature issued an apology to Chinese Olympic gold medallist Ye Shiwen for publishing an article which "gave the impression that we were supporting accusations against her".
In response to the apology, a Global Times commentary says: "The West has long viewed China with prejudice. Ye made outstanding achievements in a field traditionally dominated by Western athletes. The doubts have extended from the field of sports to the field of science."
A China Daily editorial says: " Westerners think they are physically superior to people from the East, Chinese in particular. That's why they refuse to accept a Chinese swimmer performing such a feat."
China Youth Daily publishes an opinion poll saying 81.7% of the 8,932 respondents want Western media to offer formal apologies for questioning Ye's victory.
There are no reports on the summer political summit in Beidaihe nor on the murder trial of Gu Kailai, which begins on Thursday.
China Daily reports the mass shop closures in Shenyang city "as officials battled widespread rumours of harsh inspections and large fines".
The local government has denied the rumour, while Hong Kong's Ming Pao Daily News says not many shops are confident enough to resume normal business.
A Global Times bilingual editorial says this is yet another incident that reveals inadequate trust in local authorities.
"In Shenyang's case, official information came too late to halt the spread of speculation," it said.