China morning round-up: Gu Kailai tried for murder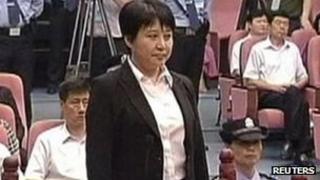 Mainland Chinese newspapers report the Gu Kailai murder trial after days of silence.
But all the papers, including China Daily, the Global Times, People's Daily and the Beijing Times, carry only the report from the official Xinhua news agency, not on their front pages.
Chongqing Economic Times publishes the Xinhua report on its second page, giving the story more prominence than the other papers.
Prosecutors said the facts were clear and the evidence substantial, according to the Xinhua report, which referred to Gu Kailai as Bogu Kailai, adding her husband's surname.
In Hong Kong, the trial is the front-page story for papers such as Ming Pao Daily News and Sing Tao Daily.
The AM730 newspaper says this has been China's most politically sensitive trial in the past 30 years.
Ming Pao further reports local authorities tried all sorts of measures to block unofficial news coverage, with mainland Chinese journalists who attempted to file their own reports saying their articles had all been scrapped.
The pro-Beijing Wen Wei Po newspaper, which is available for sale in mainland China, published their own report from Hefei citing both court official Tang Yigan's statement and Xinhua's report.
It also published a report from the Beijing-backed Hong Kong China News Agency, which said the Gu Kailai trial "was more transparent than expected".
Coverage of the London Olympics still focuses on Chinese hurdler Liu Xiang as he underwent surgery to repair a ruptured Achilles tendon.
"It's a small surgery and will not affect my life... I treasure the hurdling event. I will be back," Liu told his father in a text message on Wednesday, China Daily reports.
Sing Tao Daily says it will take around eight months for Liu to recover from the operation.
Guangzhou's Southern Metropolis Daily reports Liu met his parents at London's Wellington Hospital just before the surgery - the first time they met since Liu's exit from the London Olympics men's 110m hurdles heat on Tuesday.
Papers including China Daily and Beijing News also report the latest inflation rate published on Thursday by the National Bureau of Statistics, as it reached a 30-month low of 1.8%.
A report in the People's Daily Overseas Edition insists China has no risk of deflation this year.
The Global Times and People's Daily Overseas Edition report the signing of two agreements in Taipei to protect and encourage investment, and reinforce customs co-operation between China and Taiwan.