China morning round-up: Two fugitives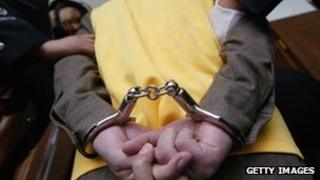 Newspapers focus on two fugitives on Tuesday: one who turned himself in, the other who was shot dead.
The Ministry of Public Security - China's top police agency - announced Gao Shan had turned himself in to Chinese police recently after eight years in Canada, China Daily and Shanghai Daily report.
Police said Gao Shan was accused of involvement in financial irregularities totalling nearly 1bn yuan ($157m; £100m) with another suspect, Li Dongzhe, between 2000 and 2004 when he was a branch manager for the Bank of China in northeastern Harbin city, according to the reports.
Hong Kong's Sing Tao Daily says the police statement did not mention how Gao Shan returned from Canada, but he and his wife were arrested by Canadian authorities in February 2007 upon Beijing's request.
Li Dongzhe surrendered to Chinese police earlier this year after returning from Canada, reports Guangzhou's 21st Century Business Herald.
Meanwhile Sing Tao Daily and Hong Kong's pro-Beijing Wen Wei Po newspaper say police in Chongqing, Sichuan and Guizhou were all mobilised to hunt for suspected "bank killer" Zhou Kehua after he reportedly killed a woman and a policeman in Chongqing on 10 August.
Latest reports from Chongqing say Zhou Kehua was shot dead in Chongqing by the police early on Tuesday morning.
Also on Tuesday, Hong Kong's Ming Pao Daily News and Sing Tao Daily report that the trial of Wang Lijun, former police chief of Chongqing and the right-hand man of disgraced top politician Bo Xilai, has begun secretly in nearby Chengdu.
The Chengdu trial, which cannot be independently confirmed, came just days after Bo Xilai's wife Gu Kailai went on trial in Hefei for murder.
China Daily reports on its front page the visit by a North Korean delegation led by National Defence Commission Vice-Chairman Chang Song-taek in Beijing.
Mr Jang, who is the uncle of North Korean leader Kim Jong-un, is believed to be the "regent", Ming Pao Daily News says. His visit could be in preparation for a formal visit by Mr Kim, it said.
People's Daily publishes a commentary by Chen Jian, China's deputy commerce minister, praising economic co-operation between Beijing and Pyongyang.
As a result of time differences, papers like the People's Daily only report the closing ceremony for the London Olympic Games on Tuesday.
Guangzhou's Southern Metropolis Daily reports China's bronze medal tally went up to 23 after Belarusian women's shot put gold medallist Nadzeya Ostapchuk was stripped of her title after failing a doping test.
The Global Times publishes a survey saying 67% of respondents believe the 2008 Beijing Games were better than that of London.
China Daily Hong Kong Edition and Sing Tao Daily report China's gold medallists will visit Hong Kong on 24 August.
Local officials admit this could be "patriotic education" for people in the former British colony, reports the AM730 newspaper, amid recent protests about a new pro-Beijing national education curriculum.
Shanghai Morning Post says "welcome home" as injured hurdler Liu Xiang is due to arrive in his native Shanghai after the London Olympics "nightmare".
And Shanghai's China Business News publishes an analysis on medal tallies and its relationship with gross domestic product (GDP) data, saying the London Games saw a tussle between Brics and G7 countries.