China morning round-up: Island protest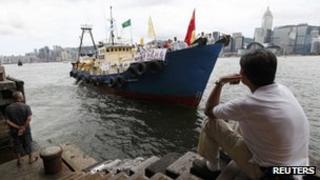 Newspapers in Hong Kong and mainland China report the voyage of a fishing boat carrying activists to a group of disputed islands in the East China Sea.
China, Taiwan and Japan maintain claims over the Senkaku Islands. The islands - controlled by Japan - are known as Diaoyu in China and Diaoyutai in Taiwan.
Hong Kong's Ming Pao Daily News reports the Kai Fung 2 fishing trawler is heading to the islands with 14 Hong Kong activists on board.
Wednesday's protest comes as Japan marks the 67th anniversary of its surrender in World War II, with at least two Japanese cabinet ministers visiting the controversial Yasukuni Shrine in Tokyo which honours Japan's war dead, including war criminals.
The Hong Kong activists were expected to meet up with Taiwanese counterparts, but the Taiwanese boats did not sail at the last minutes, reports the AM730 newspaper.
The Global Times' English edition says a group of mainland Chinese activists also cancelled a plan to join the Hong Kong boat due to a lack of government support.
Citing academics, Shanghai Morning Post says there would be "very serious" consequences if Japan sent coast guards to intercept the Hong Kong boat.
The Global Times' bilingual editorial says: "Japan has to make a choice: back up and create the conditions to reduce tensions over Diaoyu, or head into a full confrontation with China."
A front-page commentary in the People's Daily Overseas Edition urged Japan not to do anything foolish as a result of its "anxiety disorder" caused by the economic downturn.
Back in mainland China, newspapers run multi-page coverage of the shoot-out in Chongqing that lead to the death of wanted robbery suspect Zhou Kehua.
Both China Daily and People's Daily hail the shooting as a successful resolution to the case.
Shanghai Morning Post says Zhou Yongkang, the Communist Party's security chief, praised tip-offs from the public as the crucial break in the manhunt.
Also on Wednesday, the Global Times and People's Daily Overseas Edition report the Communist Party's vow to enhance the standard of its national congress delegates as well as improving "intra-party democracy" during the process of electing delegates.
Shanghai Morning Post reports the oldest and the youngest delegates for this year's party congress are both surnamed Zhao. Twenty-two-year-old Zhao Liuyang has just won a women's 200m butterfly swimming gold medal at the London Olympic Games.
This year's Chinese Communist Party national congress will see the once-in-a-decade leadership change.
While no official date has been announced, Ming Pao Daily News reports sources from Beijing are suggesting an earlier-than-usual meet in late September amid the ongoing scandal involving former Chongqing party chief Bo Xilai, his wife Gu Kailai, and his former right-hand man Wang Lijun.