China morning round-up: Island arrests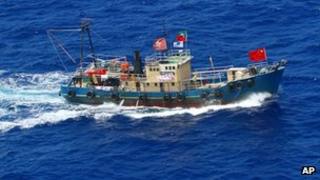 Many Hong Kong and mainland Chinese newspapers run extensive coverage of the protest by a group of activists at islands claimed by both China and Japan.
The group of 14 who travelled on a fishing trawler from Hong Kong were arrested by Japanese authorities after seven of them landed on one of the islands, which are known as Senkaku in Japan and Diaoyu in China.
The Hong Kong Standard and its sister Chinese newspaper Sing Tao Daily hailed the activists as "heroes".
The editorial of pro-Beijing Wen Wei Po newspaper called the arrests "illegal", warning Tokyo of "dire consequences" if it did not ensure the detainees' safety.
Ming Pao Daily News' editorial appeals for more "concrete action" to end Japan's control of the islands, as it criticises the Chinese, Hong Kong and Taiwanese governments for "obstructing" similar protests in recent years.
The Global Times' bilingual editorial says: "Chinese society needs to understand that grass-roots activists for Diaoyu are being backed by the state. While there is no open official support of the activists landing on Diaoyu, that doesn't mean these activists are acting on their own."
China Daily reports Beijing's demand for the "immediate and unconditional" release of the group in its front page and says in its editorial that Japan "has gone too far with its latest provocation".
But People's Daily only reports the incident in short reports in its inner pages.
It published the Foreign Ministry's protest to Japan on page three of its domestic edition, while on page three of its Overseas Edition it reported the request to Japan by Hong Kong's Chief Executive Leung Chun-ying to ensure the detainees' safety.
The paper also published a commentary in its domestic edition saying that Japan was "doomed to be a country with no dignity and soft power".
Also on Thursday, People's Daily and Shanghai Daily report Premier Wen Jiabao said China can still meet its socio-economic development target for 2012.
The economy had shown positive signs in recent months - especially since July - as both investment and consumption had grown steadily, Mr Wen said.
But he also warned that the economy was under pressure and that it was facing problems that may last for some time, said the reports.
China Daily reports a group of prominent lawyers have sent a petition to the Ministry of Public Security - China's top police agency - calling for an end to the "re-education through labour" system, also known as Laojiao.
The system, which has been operating for more than 50 years, allows the police to sentence suspects to forced labour without trial.
Academics said Laojiao had already become a tool for some local officials to take revenge on petitioners, Beijing News reports.
Shanghai Daily and Shanghai Morning Post say many Chinese consumers are unhappy with a recent price war between a major online retailer and two major home appliances chains, as they are met with "sold out" signs on the discounted item shelves.
An editorial in Guangzhou's Southern Metropolis Daily says this "price battle" has left people with a fear of an eventual monopoly caused by vicious competition.