China morning round-up: Gu Kailai verdict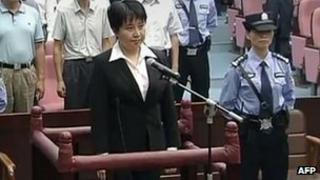 Newspapers in China report the verdict in Gu Kailai's murder trial in a low-profile manner.
Both domestic and overseas editions of People's Daily publish a report by the official Xinhua news agency at the bottom of page four. The English China Daily, Global Times and Shanghai Daily all rewrite Xinhua's report.
Regional newspapers such as Chongqing Economic Times and Beijing News also publish Xinhua's report in inside pages. The Beijing Times and Guangzhou's Southern Metropolis Daily publish the report on page 20 and page 19 respectively, with no front-page promotion.
The Chinese Xinhua report makes no mention to Bo Xilai, while the re-written English version mentions him as Gu Kailai's husband. As in previous reports, Xinhua referred to Gu Kailai as Bogu Kailai, adding her husband's surname.
The Global Times' bilingual editorial discussed the verdict, focusing on public debate over whether the suspended death sentence was fair.
The editorial said: "If Bogu were an ordinary member of the public, the sentence would have drawn much less attention, as the judicial system and the public are more cautious about the death sentence."
"China's legal system has grown fairer. Justice will be done no matter how privileged a suspect is. Trying to cover it up will be highly risky."
In Hong Kong, many newspapers lead with Gu's verdict.
Ming Pao Daily News says the suspended death sentence means Gu's husband Bo Xilai has no chance of re-emerging onto the political scene.
The verdict does not solve all the puzzles in this scandal, its editorial says, and more importantly the issue of abuse of power by "feudal princes" in local governments exposed by this scandal remains unsolved.
Meanwhile, political analysts told the South China Morning Post and Hong Kong Standard that Bo Xilai was unlikely to face harsh punishment because Beijing wanted to avoid political instability ahead of the leadership reshuffle.
The island dispute in the East China Sea still dominates many Chinese newspapers.
A front-page commentary in People's Daily Overseas Edition written by veteran diplomat Wu Jianmin says the disputes in the East and South China Seas are "attempts by some countries to anger China in order to disrupt China's development".
China Daily says a group of Chinese wine-makers have asked the Commerce Ministry to investigate European wine-makers for dumping in China, while People's Daily Overseas Edition says the ministry says the US is subsidising its renewable energy industry, which goes against World Trade Organisation regulations and creates trade barriers for Chinese firms.
Southern Metropolis Daily and Shanghai Daily report Xie Pengfei, a senior official in the Guangdong provincial government, has been dismissed from both his government post and the Communist Party for "severely violating party rules".
Mr Xie is now under criminal investigation, said the reports, but details of allegations against him are not available.
Also on Tuesday, People's Daily carries an article praising former Chinese President Jiang Zemin for his contribution as the electronics industry minister in the 1980s, as a biography of Mr Jiang is published.