China morning round-up: Japanese military drill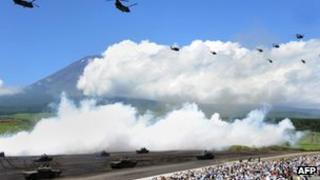 National newspapers criticise Japan for conducting military exercises with the US which papers say target China.
Citing Japan's Sankei Shimbun newspaper, the Global Times says an annual drill will rehearse regaining control of disputed islands in the East China Sea captured by China - an allegation that the Japanese embassy in Beijing has denied.
The drill will take place on Tinian Island in the Northern Mariana Islands in the Pacific Ocean.
China Daily quotes a defence commentator as saying that the drill "is increasing tension in the region and has shown Washington's true colours, despite its so-called neutral stance over the issue".
A front-page commentary in People's Daily Overseas Edition says the drill is a "useless emboldening exercise". It says "individual countries" are sacrificing regional peace for the sake of "playing hegemony".
Meanwhile an analysis from the same newspaper says Taiwan, which also claims the islands, has been "over-cautious" over the recent landing by Hong Kong activists on the island.
President Ma Ying-jeou's government did not want to be seen by the US as a "trouble-maker", said the report, and therefore Taipei did not actively intervene.
A Global Times Chinese editorial says: "The Chinese government must prepare properly for uncontrollable developments in the China-Japan dispute over the Diaoyu Islands [known as Senkaku in Japan], including necessary military preparation."
Also on Wednesday, People's Daily and the Global Times report He Guoqiang, secretary of the Communist Party's Central Commission for Discipline Inspection, said the party would find new ways of preventing corruption at the upcoming party congress.
People's Daily and Beijing News also say the party's security and legal affairs chief Zhou Yongkang urged local courts and prosecutors' offices "to split up law enforcement power" in order to prevent injustice and corruption.
Meanwhile, the Global Times says Beijing municipal authorities have launched a crackdown "to root out illegal activities around Tiananmen Square" ahead of the Communist Party congress, such as "unlicensed vendors, illegal taxis or tour guides".
Beijing News and others say a report published by the Central China Normal University in Wuhan shows improved household income in rural villages in 2011, while the Gini coefficient - an index that reflects the wealth gap - stood at 0.3949, close to the international warning level of 0.4.
China Daily reports officials in Shaoyang city in central Hunan province said they may scrap a policy that allows "contract" municipal inspectors to get an 80% commission on every traffic ticket or fine they issue.
Shanghai Daily called the Shaoyang controversy "another fine mess", after similar policies were enacted in other Hunan cities.
Beijing News' editorial criticises local authorities' "blind faith" in fining people, saying the commission incentive made abuse of power inevitable.