Two Tibetan teenagers die in self-immolations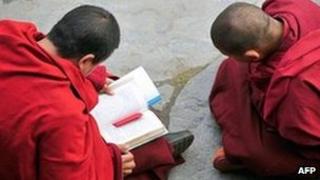 Two Tibetan teenagers have died after setting themselves on fire in Sichuan province, activists and US media said.
Lobsang Kalsang, an 18-year-old monk, and Damchoek, a 17-year-old former monk, set themselves on fire on Monday morning, London-based Free Tibet said.
It happened outside the Kirti Monastery in Aba county, where many of the self-immolations have taken place.
This brings the number of Tibetans who have set themselves on fire since 2009 to 51, the group added.
The BBC is unable to verify this figure. Foreign media are banned from the region, making reports hard to confirm. Chinese state media have confirmed some of the self-immolations but not all.
More than half of those who have set themselves on fire are believed to have died.
'No information'
The teenagers died on Monday evening after being taken to a hospital by Chinese authorities, Free Tibet said.
The young men were shouting slogans against Chinese rule and policies in Tibet as their bodies burned, Radio Free Asia (RFA) reported, citing witnesses.
"Witnesses saw them run about 20 steps with their bodies on fire, and then they fell to the ground," two monks based in India told RFA.
Former monk Damchoek has been identified as the brother of Tenzin Choedon, a teenage nun who died after setting herself on fire earlier this year, the reports said.
Lobsang Kalsang's roommate at the monastery was detained on Monday, both Free Tibet and RFA reported.
Aba county police said they had no information on the self-immolations, an Associated Press report said.
Kirti Monastery, which has been the focus of protests for more than a year, is surrounded by heavy security.
China's leaders blame the Dalai Lama, the Tibetans' exiled spiritual leader, for inciting the self-immolations and encouraging separatism.
He rejects this, and both activist groups and the Tibetan government-in-exile say the self-immolations are protests against tight Chinese control of the region and religious repression.