Two held in China over attack on Japanese envoy's car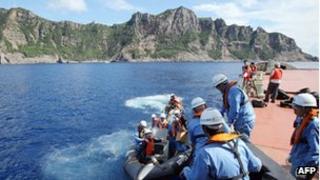 Two Chinese men have been detained in Beijing over an attack last week on the Japanese ambassador's car in Beijing, Chinese state media has reported.
In the incident, the flag was ripped off the envoy's car, prompting anger from Tokyo.
Relations between the two nations have been tense amid a row over disputed islands in the East China Sea.
Both countries claim sovereignty over the island grouping, called Senkaku in Japan and Diaoyu in China.
Japan administers the islands, but China says the rocky grouping has been part of Chinese territory since ancient times.
The disputed islands sit in key shipping lanes and are thought to lie close to gas deposits.
Pro-China activists and Japanese nationalist groups have both landed on the islands in recent weeks, pushing the issue to the top of the political agenda and provoking anti-Japanese protests in several Chinese cities.
Last month the US said it was concerned about tensions between the two countries.
The two Chinese men arrested on Tuesday are aged 23 and 25 and are being held for disturbing public order, the official Xinhua news agency said. Another man has been issued with a warning.
The agency said that they had admitted carrying out the 27 August attack, in which Ambassador Uichiro Niwa's car was blocked by two other vehicles on one of Beijing's outer ring roads.
A man then got out and ripped the Japanese flag off, damaging the vehicle's flagpole.
China's foreign ministry expressed deep regret over the incident and said that authorities would work to prevent it from happening again.
Correspondents say that Beijing faces a constant battle to contain anti-Japanese sentiment, with many Chinese still resenting Japan's brutal World War II occupation of much of China.
Anti-Japanese street protests broke out in August after Japan detained and later released 14 Hong Kong activists who landed on the islands, which are also claimed by Taiwan.