China morning round-up: Islands purchase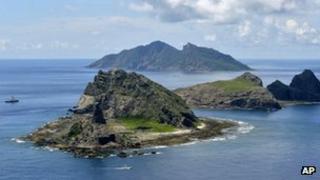 Newspapers across China voice strong criticism of Japan's plan to purchase disputed islands in the East China Sea.
The Japanese government confirmed its plan to ''obtain ownership'' of islands called Senkaku in Japan and Diaoyu in China on Monday.
People's Daily publishes on its front page two statements from the Foreign Ministry. The first statement criticised Tokyo's announcement as a "serious violation to China's sovereignty", the other set out China's claim to the islands.
The paper's domestic edition publishes another half-page-long commentary detailing China's historical claim, while the front-page commentary in the Overseas Edition warns Japan that it will have to "bear consequences in reality" if Prime Minister Yoshihiko Noda is to keep "walking on a wrong and dangerous path".
Papers such as China Daily and the Beijing Times lead with a speech by Premier Wen Jiabao saying China "will never give in" on the territorial issue.
The Global Times' bilingual editorial says: "Japan has tight control over Diaoyu (Senkaku), but that control is not that defensible. China's maritime power should be reflected in the waters around Diaoyu. The confrontation with Japan will be a long-term one."
Meanwhile, China Daily and Shanghai Daily report 15 victims of Japan's bombing raids in Chongqing during World War II filed a lawsuit against the Japanese government at the Chongqing High People's Court.
The plaintiffs are demanding "a worldwide apology for the Chinese people" and economic compensation, said the reports.
The result of Hong Kong's legislative election remains a hot topic on Tuesday. Hong Kong Standard says the election saw radical democrats "flexing muscles" as the People Power and League of Social Democrats parties scooped more seats than before.
The editorial in Ming Pao Daily News voiced concern that the rise of the radicals and the downfall of the moderate Democratic Party might bring further damage to the reputation of the pan-democracy camp.
Sing Tao Daily's editorial believes the new chamber will challenge the Hong Kong government's ability to push through controversial bills, but an analysis in China Daily Hong Kong Edition says it will actually be easier as the pro-Beijing camp claimed victory in the election.
The Global Times says Hong Kong's recent protest against the plan to introduce Chinese patriotic education classes failed to stop pro-Beijing candidates from holding a majority of seats. Its second Chinese editorial says "Hong Kong separatism" will never emerge, and Hong Kong's "forces" have "no chance to win" if they confront the mainland.
Newspapers in mainland China make no mention of the absence of Vice-President Xi Jinping from several key diplomatic events in Beijing, while Hong Kong's Ming Pao Daily News and Sing Tao Daily report speculation over his whereabouts is spreading.