China morning round-up: Islands row hits trade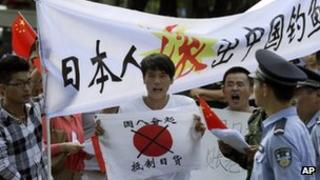 Newspapers report a possible economic impact on Japan caused by the dispute over East China Sea islands.
China Daily and Shanghai Daily report Vice-Commerce Minister Jiang Zengwei's warning of potential harm to China-Japan trade as a result of the tension, saying "it will be their [consumers'] right" to show their stance.
Guangzhou's 21st Century Business Herald reports sales of Japanese-branded goods in China have seen a significant decline since August, with cinemas in Beijing suspending shows of all Japanese films as well as films featuring Japanese actors and actresses.
People's Daily carries a short report by the official Xinhua News Agency on the front page saying a major travel agency in China has terminated a scheme to send some 50,000 tourists to Japan this year.
The scheme was intended to commemorate the 40th anniversary of the normalisation of diplomatic relations between China and Japan, said the Xinhua report.
However, Prof Liu Jiangyong of Tsinghua University told Beijing News that boycotting Japanese goods would not be a rational approach to the dispute.
Hong Kong's Ming Pao Daily News says anti-Japan demonstrations in the mainland are intensifying, with reports of protesters setting their own Japanese cars on fire.
The Beijing Times reports some bus routes in the capital have been asked by "relevant authorities" to stop calling outside the Japanese embassy until further notice. No further explanation was given.
Besides a business impact, China Daily used half its front page to publish the translation of a People's Daily commentary from Tuesday detailing China's historical claim to the islands. The Beijing Times and Shanghai Morning Post say Beijing will soon file relevant maps to the United Nations.
A front-page commentary in People's Daily Overseas Edition criticised the islands' purchase as an invasion by Japan, while Hong Kong's pro-Beijing Wen Wei Po newspaper says 10 senior Chinese military leaders appealed for preparations "to get rid of Japan".
A People's Daily commentary in its domestic edition says Japan is "gambling with the country's fate and its people's well-being", urging Tokyo to "return to rational thinking". This commentary is promoted as the top story on the People's Daily website.
Meanwhile, papers including Beijing News report Beijing's comments on a move by the Philippines to rename part of the South China Sea as the West Philippine Sea, saying it cannot change China's sovereignty over the area.
The Philippines and China have overlapping territorial claims in the South China Sea.
A China Daily editorial says: "Any reasonable person can recognise that Manila is being irrational if it thinks it can gain sovereignty over a part of the South China Sea simply by giving it a different name."
Ming Pao Daily News reports a local TV station in southern Guangxi region showed pictures of a wreath sent by Vice-President Xi Jinping to the memorial service for local veteran Communist Party official Huang Rong - the second mention of Mr Xi in state media after days of absence. But there was no other mention of him or his whereabouts.
China Daily and the Beijing Times report Chinese police have cracked down an inter-provincial internet prostitution syndicate, detaining 184 people.
The operation involved the use of spyware, said the reports, where organisers would introduce prostitutes to male internet users based on personal information they secured via the software.