China morning round-up: Wang Lijun's testimony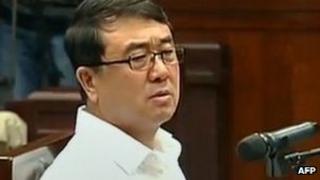 Newspapers in mainland China have published more details of the trial of Chongqing's former police chief, Wang Lijun. State media has also for the first time issued a commentary on the trial.
Papers such as the Chongqing Economic Times, People's Daily and China Daily reprinted the half-page report from the official Xinhua news agency inside their pages. The report alleged that fallen politician Bo Xilai knew that his wife Gu Kailai was suspected of murdering British businessman Neil Heywood.
Hong Kong's South China Morning Post says the Xinhua report "confirmed rumours" surrounding the case that Wang Lijun was given "a tough dressing down" by his boss.
"The virtually unmistakable reference to Bo [Xilai] increases the chances of him facing criminal charges, possibly for covering up a crime or corruption," Shanghai Daily says.
Citing legal experts, Hong Kong's Ming Pao Daily News says the fact that Bo Xilai has been mentioned in this Xinhua report - although it did mention his name - implies that Communist Party leaders have reached a conclusion on Mr Bo's case, which would be tackled before the expected party congress opens.
The Global Times published a bilingual editorial on the trial - the first newspaper commentary from state media since the trial ended on Tuesday.
The editorial says: "If he [Wang Lijun] hadn't sought asylum in the US Consulate General in Chengdu, Sichuan province, there could be no normal way to uncover this twisting drama. This is alarming and would represent a miscarriage of justice."
"Exposure of this scandal has proved that the pressure of Chinese society requesting greater transparency is irresistible. In the future, similar cases will be difficult to hide."
Vice-President Xi Jinping's comments on China's dispute with Japan over the East China Sea islands also made it to the headlines. Mr Xi issued the comments during a meeting with visiting US Defence Secretary Leon Panetta.
A People's Daily commentary urged the US to remain cautious on the islands dispute in order to maintain a "healthy development" of China-US relations.
As China Daily and Shanghai Daily report Mr Xi's warnings to Tokyo, they also say Beijing is investigating an incident on Tuesday where a car carrying US Ambassador Gary Locke was surrounded by a group of protesters outside the US embassy.
The US embassy is located near the Japanese embassy. Foreign Ministry spokesperson, Hong Lei, said it was an "individual case".
Meanwhile, a front-page commentary in the People's Daily Overseas Edition says Japan has "seriously misjudged China's national spirit" over the dispute. It urges Japanese politicians to resist the "temptation" of winning votes by resorting to having iron fist in foreign affairs.
The Beijing Times' editorial says Japan should "rein in at the brink of the precipice" for the sake of its own economy. It says Japan's action of purchasing the disputed islands has made Japanese products "unmarketable" in China.
Beijing News and the Shanghai Morning Post report on the start of Naw Kham's trial. He is a Burmese national accused of leading attacks on two Chinese ships in the Mekong river in October 2011 that killed 13 Chinese sailors.
Reports say that the trial in Kunming, expected to last for three days, would be a first for China, as police officers from Thailand are attending the trial as witnesses. Other witnesses from Thailand and Laos will also be summoned.
The Global Times and Shanghai Daily report that authorities in the north-eastern city of Harbin have concluded an investigation into the 24 August bridge collapse that killed three people, saying overloaded lorries were to blame.
But a A Beijing News commentary says the investigation failed to answer whether the collapsed bridge had structural issues.