China morning round-up: Taiwan tie-up on islands?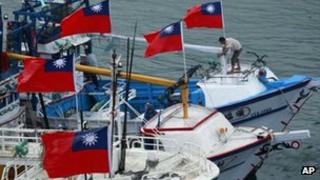 The ongoing islands dispute with Japan in the East China Sea continues to dominate media coverage, with discussion on Thursday of a "joint effort" between China and Taiwan.
The islands, called Senkaku in Japan, Diaoyu in China and Diaoyutai in Taiwan, are controlled by Japan but claimed by China and Taiwan.
Beijing News reports China's fishery patrol boats are ready "to provide assistance to Taiwanese fishing boats" in the area, according to Fan Liqing, spokeswoman for China's Taiwan Affairs Office.
However, as the Global Times and the Beijing Times report, Ms Fan also hit out at a recent report by Taiwan's military that estimates Beijing would have the capacity to invade Taiwan by 2020.
People's Daily Overseas Edition publishes a front-page commentary saying the Japanese government should choose between "boycotting and containing right-wing activists in the country or catering and making use of the right-wing forces".
A China Daily editorial says: "In its bid to seize the Diaoyu Islands, Japan is trying hard to deny the historical facts that are to its disadvantage. It's time for Japan to stop its denial of the dispute and negotiate a peaceful solution."
Commenting on the election of Shinzo Abe as the leader of Japan's opposition Liberal Democratic Party, the Beijing Times' editorial warns Mr Abe could get tough on China to cater to "populists" if he becomes the next prime minister.
In other news, People's Daily says President Hu Jintao met representatives attending a conference on "cultural system reform" in Beijing on Wednesday. An accompanying commentary urges further effort to build a "socialist cultural power".
China Daily reports Premier Wen Jiabao "urged a further expansion of China's outsourcing industry" during a speech in Hangzhou city.
The Global Times reports experts and environmental campaigners heavily criticised a draft amendment to China's Environmental Protection Law, saying the bill "prioritised economic development over the environment".
Shanghai Daily and Beijing News say a primary school teacher in Shenzhen city stamped pupils on the forehead to show who was a good student and who was a bad student. Shanghai Daily says the school has apologised "for the misconduct".