China morning round-up: Japan PM Noda's speech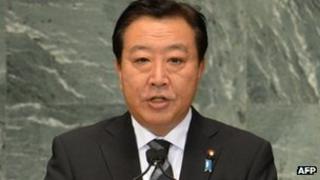 Chinese newspapers strongly criticise a speech by the Japanese prime minister on the East China Sea islands dispute.
Yoshihiko Noda told the UN General Assembly in New York on Wednesday Japan was determined "to settle disputes in a peaceful manner based on international law".
People's Daily says Mr Noda's speech was "refuted by the international community". A front-page commentary in the Overseas Edition says his speech was based on lies and the "logic of a thief".
Another commentary in its domestic edition - promoted as the front-page top story on its website - says Japan "is not qualified to talk about the big picture", in response to a comment by Japan's Chief Cabinet Secretary Osamu Fujimura that the nation should only seek dialogue with a broader perspective.
The Global Times' bilingual editorial says: "For a long time Japan was more developed than China, and once invaded us, but this is no reason for China to be stuck in an inferiority complex."
The Chinese version of the editorial further says: "We have to gradually treat this nation which keeps harassing us as the 'troublemaker' of Asia."
China Daily and People's Daily report on the front page a meeting in Beijing between Jia Qinglin, chairman of the National Committee of the Chinese People's Political Consultative Conference (CPPCC), and a delegation of China-friendly organisations from Japan.
Mr Jia told Yohei Kono, Japan's former chief cabinet secretary who led the delegation, that Japan should "cherish the hard-won situation" of Sino-Japanese relations, said the reports.
He also said the dispute had severely damaged Sino-Japanese relations to "an unprecedented, tightening level".
Hong Kong's South China Morning Post says this meeting marked 40 years of ties between the two countries in a low-profile manner after an official event was cancelled as a result of the dispute.
Ming Pao Daily News says Mr Jia's words were the strongest warning issued by China's state leaders so far.
Meanwhile, Shanghai Daily and the Beijing Times report China's Defence Ministry confirmed two Chinese navy vessels had been patrolling the disputed islands last week.
"It was completely legitimate for Chinese naval ships to carry out patrols and training for military readiness in waters under Chinese jurisdiction," the ministry's spokesman Yang Yujun told a news conference.
China Daily and the Global Times report Col Yang also told journalists China's first aircraft carrier, the Liaoning, is for a defensive purpose, amid speculation China will use its increasing maritime strength to resolve territorial disputes in the East and South China Seas.
Col Yang also denied suggestions that China was building a second aircraft carrier in Shanghai, said the reports.
A second editorial in China Daily says the upcoming eight-day Mid-Autumn Festival and National Day holiday offers a "golden opportunity" to shape China's tourism industry "so that the ambitious goal of building China into a world tourism giant by 2020 can be realised".
The Beijing Times says the capital will see the peak of pre-holiday traffic on Saturday afternoon. Shanghai Daily details measures implemented by the municipal government to relieve the financial hub's travel pressure.
Guangzhou's Southern Metropolis Daily says the volume of traffic in southern Guangdong province is expected to exceed that of the Chinese New Year travel rush.