China morning round-up: King Sihanouk mourned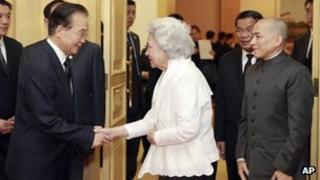 Newspapers report extensively on the death of former Cambodian King Norodom Sihanouk in Beijing.
People's Daily reports on its front page President Hu Jintao and former leader Jiang Zemin sent their condolences to King Norodom Sihamoni and Queen Mother Norodom Monineath Sihanouk, while Vice-President Xi Jinping and Premier Wen Jiabao paid visits to the royal family.
China Daily praises the late king as "a monarch for his people", and recalls the "deep friendship" between King Sihanouk and generations of Chinese leaders. Shanghai Morning Post publishes a photo of King Sihanouk and Mao Zedong on the front page.
Beijing News looks back at King Sihanouk's musical talents, in particular songs he composed to praise China during his days in exile in Beijing.
The Global Times' bilingual editorial says: "Looking around the world, China has too few friends like Sihanouk. We have too many scruples regarding Western diplomatic actions. We rarely have the opportunity to express China's values and developing countries' common moral principles."
"The conflict of interest with Western powers is bound to emerge no matter how China tries to downplay them. We need more real friends in the developing world, such as Pakistan."
China Daily and Shanghai Daily report China's latest inflation rate - which eased to 1.9% in September - saying this gives more room for the government to implement stimulus measures.
The report in People's Daily Overseas Edition says China has been "playing well" with its stimulus measures so far, and without producing any "side effects".
China Daily and the Global Times report Beijing heavily criticised the meeting between Japanese Foreign Minister Koichiro Gemba and US Deputy Secretary of State William Burns in Tokyo on Monday, as the two countries discussed Japan's dispute with China over the East China Sea islands.
A People's Daily commentary says Japan should "put down the illusion and bring out the courage to correct the mistake" of "stealing" the islands from China.
A front-page commentary in the Overseas Edition says Japan should "use Germany as a mirror" and learn from a "fellow defeated country in World War II" on how to become a "normal country".
China Daily says a meeting of the National People's Congress Standing Committee - scheduled to be held between 23 and 26 October - "will also discuss appointments and dismissals".
Hong Kong's South China Morning Post and Ming Pao Daily News say the Standing Committee will strip the disgraced politician Bo Xilai of his role as a legislator, paving the way for his trial.
Guangzhou's Southern Metropolis Daily reports a former top official of a major gold refinery in China has been sentenced to death for stealing gold.
Song Wendai, former chairman of the Qiankun Gold & Silver Refinery, was found guilty by a court in Inner Mongolia of embezzeling 134kg of gold, other precious metal and cash, said the report.