China morning round-up: Islands row and shooting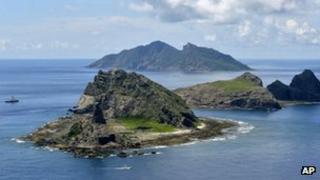 Newspapers report the latest moves in the China-Japan islands row, as well as the fatal shooting of a Chinese fishermen by South Korean coast guards.
China Daily says "tension lingers" as US Deputy Secretary of State William Burns arrived in Beijing "as Tokyo launched a global propaganda blitz to support its claims over the islands that belong to China".
Meanwhile the Global Times, citing the Asahi newspaper in Japan, says a US-Japan military drill simulating the recapture of an island would be held in November.
The Global Times says: "Analysts said Washington has been attempting to use high-level official visits to persuade the two countries to seek a way out of the islands dispute, but at the same time is highlighting its regional interests through the joint military drill."
A People's Daily commentary says Japan "has been acting shamelessly" in the row. The article is promoted on the paper's website as a front-page top story. China Daily's editorial says Japan's lobbying "can't hide truth".
Shanghai Daily and Guangzhou's Southern Metropolis Daily report the Defence Ministry has said that its navy vessels' "routine training and navigation in the waters is justified and legitimate".
The ministry's comment was in reply to reports from Tokyo said Japan had dispatched surveillance aircraft to follow a fleet of seven Chinese naval vessels on Tuesday morning as the flotilla sailed through waters 49km (30 miles) south of Japan's Yonaguni island and 200km from the disputed islands.
The Global Times and the Beijing Times lead with the shooting in the Yellow Sea as China protested to South Korea over the fisherman's death.
The Global Times' bilingual editorial says: "When a South Korean coastal policeman was stabbed to death by a Chinese crew last December, nationalistic emotion boiled over in Seoul. Local media outlets were full of strongly-worded calls for tough measures against China. This nationalistic emotional outburst was surely the background of the tragedy of yesterday."
Also on Wednesday, China Daily and Beijing News report construction of a third natural gas pipeline between the Xinjiang region and eastern China has begun.
Reports say the 7,378km (4,584 miles) pipeline will transport natural gas imported from Turkmenistan, Uzbekistan and Kazakhstan to the coastal region from 2015, including the capital Beijing.
People's Daily says the National Council for Social Security Fund has invested in this project, marking the first time that private capital has entered China's energy supply market.
Shanghai Morning Post and China Business Daily report a new round of railway construction, with many local governments announcing their plans. People's Daily reports State Councillor Ma Kai also said Tuesday China should speed up railway development with the involvement of private capital.
China's railway construction boom came to a near-halt after the deadly Wenzhou bullet train crash in July 2011, but now it is seen by the government as a major way to boost the economy, said the reports.
People's Daily reports the Communist Party's security chief Zhou Yongkang urged local legal and judicial officials to maintain social harmony and stability ahead of the 8 November national party conference during a visit to Sichuan this week.
Shanghai Morning Post says Public Security Minister Meng Jianzhu also urged police officers across China to treat security at the conference as a "top political task".