China morning round-up: Economic confidence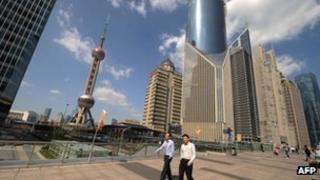 Newspapers report comments from Premier Wen Jiabao on the economy ahead of the release of growth figures.
"China's economic growth has started to stabilise, and the country has witnessed positive changes, with the economy running well in the third quarter," Shanghai Daily and People's Daily quoted him as saying.
"China's economy will continue to stabilise as supportive policies get further implemented," he said.
Thursday's data puts economic growth at 7.4% in the three months to the end of September, down from 7.6% in the previous quarter.
Shanghai's China Business News says experts said the government should remain cautious in the fourth quarter, and keep its stabilising policies steady towards the end of the year.
The Global Times reports Commerce Minister Chen Deming said incentives rolled out by the government, such as cutting red tape and increasing access to bank loans, would continue to help boost exports.
Papers such as People's Daily and the Global Times continue coverage of the death of former Cambodian King Norodom Sihanouk, as President Hu Jintao and Premier Wen Jiabao attended a memorial service in Beijing before his body was flown back to Phnom Penh.
China Daily leads with the visit to the controversial Yasukuni shrine in Tokyo by Japan's newly-elected opposition leader, Shinzo Abe.
People's Daily says Mr Abe's visit to the shrine - which honours Japan's war dead, including war criminals - was "condemned by media around the world". A commentary in the paper says this was a "vicious visit".
Shanghai Morning Post carries a commentary from the official Xinhua news agency, saying Mr Abe's "worshipping of ghosts" was a "[politically] speculative, short-sighted and cowardly act".
The Global Times' bilingual editorial says: "A resurgence in Japanese politicians visiting the Yasukuni Shrine will provoke a reaction from China. And we are already very familiar with what the scale of these countermeasures would be."
The Beijing Times reports Foreign Minister Yang Jiechi "reiterated China's position" on the China-Japan islands dispute as he met visiting US Deputy Secretary of State William Burns.
A front-page commentary in People's Daily Overseas Edition says Japan "has done its maths wrong" by lobbying the US to pressure China over the issue.
The Global Times and Shanghai Daily report China has proposed a 79.8bn yuan ($12.76bn; £7.9bn) plan to boost safety in nuclear energy production.
Shanghai Daily says: "The report, which laid out a road map for China's nuclear safety to reach international standards by 2020, suggested the government was moving closer to restarting the approval process for reactor expansion."
China Daily says a new book by China's Nobel literature laureate Mo Yan has become a sought-after item, after it was released on Wednesday. Beijing News says Mo's hometown Gaomi is mulling big investment to boost tourism.
But a Xinhua news agency commentary carried by People's Daily appeals to people not to "consume Mo Yan in the name of literature".