China morning round-up: Nuclear energy policy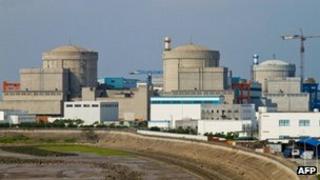 Newspapers report the cabinet's decision to resume construction of nuclear power plants in China.
China Daily, People's Daily and Shanghai's China Business News report the announcement, which says new plants will "comply with the highest international safety standards".
China halted construction of nuclear power plants after the March 2011 earthquake and tsunami in Japan, which led to the Fukushima nuclear crisis.
But reports say only a small number of projects would be launched by 2015, and no projects will be approved for inland locations.
People's Daily also publishes the full text of a cabinet white paper on China's energy policy. The Global Times says the paper has warned that China's growing dependence on energy imports "may pose a threat to the nation's energy security".
Meanwhile, Shanghai Daily reports that officials in Ningbo city in eastern Zhejiang province said the government will continue with the expansion of an oil refinery and chemical plant, which involves an investment of 55.8bn yuan ($8.93bn; £5.57bn).
Hong Kong's South China Morning Post and Ming Pao Daily News report that local residents held "a string of small-scale protests" against the plan recently, as they were worried the production of paraxylene at the plant could damage their health.
Paraxylene is a chemical used in fabric manufacture and can be highly toxic.
The Global Times' bilingual editorial says: "The old government-dominated method of approving and constructing heavy chemical projects is unsustainable. It needs thorough reform. The conflict will decrease only when projects receive approval from the public."
"Opposing voices should legally be allowed to improve the democratic policy-making process."
Beijing News' editorial says the protests were the result of a lack of communication between the local government and the public. Ningbo authorities should have learned the lessons from similar incidents in Dalian and Xiamen, the editorial said.
Also on Thursday, China Daily and the Global Times report that senior diplomats from China and Japan held secret talks last week to discuss the East China Sea islands dispute.
Ming Pao Daily News says both sides refused to give in, and they held the meetings in secret to avoid public disappointment.
People's Daily reports that the Communist Party's security chief, Zhou Yongkang, urged officials to implement tough measures in pushing for development in the restive Xinjiang region.
Mr Zhou also urged officials to "wipe out breeding grounds for the 'three evils'", namely terrorism, separatism and religious extremism.
The Beijing Times says the party's deputy propaganda chief, Wang Chen, urged internet management officials "to set off an upsurge of online propaganda" ahead of the 8 November party congress, as well as censorship against "harmful messages".
The Global Times and Ming Pao Daily News say Chinese netizens were angered by the foreign ministry after its spokesman condemned a Chinese woman for doing something "extremely wrong" by desecrating pictures of Cambodia's late King Norodom Sihanouk.
The Global Times says pictures showing the woman "being forced by Cambodian police to kneel down in front of the king's portrait" have triggered controversy, as some Chinese people expect Beijing "to do more to protect its people overseas".
China Daily and Beijing News report that nearly 1.37 million people had registered for the annual examination for civil servants. Authorities are expecting even greater interest in the exam next year due to fewer other opportunities in a slowing economy.
Shanghai Daily says a post in the National Bureau of Statistics' local office in Chongqing attracted 9,470 qualified applicants.