China morning round-up: Ningbo factory plan protest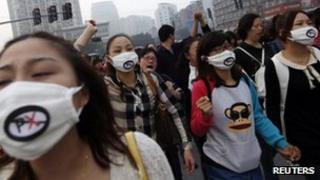 Newspapers comment on protests in Zhejiang's Ningbo city which forced the local government to shelve a plan to expand a petrochemical plant.
China Daily's editorial says: "The rapid rise in the number of environmental protests points to two conflicting tendencies: citizens' awakening environmental awareness and some local authorities' obsession with economic growth, even if it comes at the cost of the environment."
"Too many local governments are still preoccupied with gross domestic product; the concern residents have demonstrated about the downsides of this preoccupation should serve as a reminder that the quality of growth is more important than quantity."
The Global Times' bilingual editorial says: "Some claim the people in Ningbo scored a victory. But we hold that when deciding a heavy chemical project through such protests, there is no winner but the whole country loses."
"It's comforting that the protests this time were resolved in a relatively peaceful manner, which demonstrates that both officials and the public have come a long way. But the inadequate communication and the absence of effective interaction between the two reveals that in many places, local governments are often at a loss on what to do when facing a major public crisis."
However, not many Chinese-language newspapers other than Ningbo Daily are reporting the government's decision to back down.
Also on Monday, People's Daily reports on its front page that a press centre serving journalists covering the Communist Party congress will open its doors on 1 November - a sign preparations for the major political event are in full swing.
The Global Times says passengers have discovered some of Beijing's taxis have their windows locked, which the paper believes is a security measure implemented ahead of the party congress.
"Some passengers had thrown leaflets out of the taxi window, or inserted leaflets into ping-pong balls and threw them out, or would let go of a balloon which had leaflets tied to it," the paper quoted a taxi driver as saying.
Meanwhile, Hong Kong's South China Morning Post and Sing Tao Daily report Premier Wen Jiabao visited an exhibition in Beijing on Friday, with photos showing Mr Wen's big smile.
Sing Tao Daily says the big smile seems to show that Mr Wen has not been affected by claims in the New York Times that his family has amassed hidden riches.
Commenting on a statement from Mr Wen's family, South China Morning Post says: "The unprecedented statement... was a chance for the leadership to tackle corruption that lies at the heart of the Communist Party's legitimacy crisis, political analysts say."
"Wen should seize the opportunity to disclose his own and his relatives' assets, setting an example for other leaders, which would give a boost to long-stalled efforts to pass 'sunshine laws' obliging senior officials to declare their assets," the Post quoted the analysts as saying.
State media does not appear to have reported the Times' story.
Newspapers also report more personnel reshuffles in the armed forces ahead of the party congress.
The Global Times says the paramilitary police command of the Xinjiang Production and Construction Corps - a special economic and semi-military administration in the Xinjiang region - has been upgraded to a deputy corps command.
Guangzhou's Southern Metropolis Daily says a new head for the Tibet paramilitary police force has also been named, while a few command heads of provincial and regional paramilitary police have been renamed commanders.
China Daily and People's Daily report a radio telescope said to be the biggest in Asia was unveiled in Shanghai on Sunday.
The Global Times and Shanghai Daily say the telescope will be fully operational in 2013. It will assist the flights of Chang'e 3 - China's next moon exploration programme.