China morning round-up: Congress work report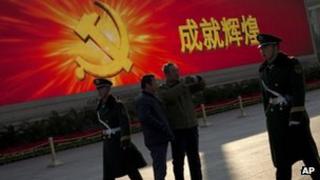 Newspapers report consultations on the Communist Party work report to be tabled at the congress that opens on Thursday.
People's Daily and China Daily report President Hu Jintao held a meeting with representatives from non-Communist parties "to solicit opinions" on the report.
China has eight non-Communist "democratic parties" that follow the communist leadership. They do not challenge the Communist Party like opposition parties in other countries.
The representatives "hailed the CPC Central Committee's full efforts in pushing forward reform and opening-up, as well as the country's prominent achievements in economic, political, cultural, social and conservation development," said the reports.
Hong Kong's Ming Pao Daily News says the meeting was held on 3 September, but it was not reported by the official Xinhua news agency until Monday.
Vice-President Xi Jinping and Vice-Premier Li Keqiang - who are tipped as the next president and premier respectively - also attended the meeting, said the reports.
Sing Tao Daily says an article published by Xinhua news agency reiterated Beijing's position that political reform in China will not involve "the wrong way" of Western-style multi-party democracy.
Regional papers like the Beijing Times and Guangzhou's Southern Metropolis Daily report the arrival of delegates in Beijing. The Global Times reports more than 1,000 foreign journalists have registered to cover the congress, "a substantial increase" from the previous congress in 2007.
People's Daily and the Beijing Times report the party's security chief Zhou Yongkang urged officials to prevent "dangerous people, dangerous materials and dangerous vehicles from entering Beijing" during the congress.
Hong Kong's Sing Tao Daily says urban management officers - commonly known as "chengguan" - in Beijing's Fengtai district have asked residents not to fly any kites.
Meanwhile, Ming Pao Daily News says many netizens have left comments appealing for swift measures to fight corruption on official websites launched by the three major party mouthpieces - Xinhua news agency, People's Daily and China Central Television (CCTV).
Analysts said given China's tight online censorship, it could have been the authorities' intention to publish these comments, the report said.
China Daily's editorial says the fact that over 660,000 party members have been punished for disciplinary violations since 2007 shows Beijing's determination to tackle corruption.
Referring to wider social discontent, the Global Times' bilingual editorial says: "Officials should know that the time when they were able to decide everything has passed. They can't work without any supervision."
"They should have a systematic approach and formulate policies to solve problems with help from the public, so as to balance power between the government and the public."
But South China Morning Post says ordinary people in China "appear to be gripped by an overwhelming sense of apathy", as many of them believe the party congress "has nothing to do" with them.
Papers also cover the US election extensively, with just hours to go until polls open. The Global Times reports on increasing interest among Chinese people in the White House race.
China Daily and People's Daily report Premier Wen Jiabao's address to the Asia-Europe summit in Laos. Mr Wen reassured world leaders China's economy was back on track.
China Daily and the Beijing Times also say Beijing has protested against Tokyo's decision to allow the Dalai Lama, the Tibetan spiritual leader in exile, to visit Japan. The Foreign Ministry was also monitoring Japan's military drill with the US, said the reports.
Beijing News and Ming Pao Daily News report the Chinese navy also held its own drill in the South China Sea.