China media: 'Unqualified' party members targeted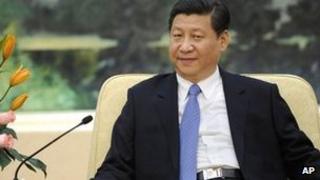 Communist Party leader Xi Jinping pledges to expel "unqualified members" and calls for limits on the size of the party, the People's Daily reports, amid an ongoing anti-corruption drive.
A top leadership meeting chaired by Mr Xi yesterday issued a stern warning against "corrupt and degenerate" party officials and called for more farmers, young workers and intellectuals to be enlisted as members, the paper adds.
"Some party organs are not strict with enlisting members, and the quality of members who are recruited needs improvement," a party statement published by the paper reads.
Party newspaper Guangming Daily calls for stricter curbs on "money, sex and other sugar-coated bullets'" luring officials so as to save the image and prestige of the party from "irreversible damage".
Experts tell China Daily that the purge of unqualified members is the party's "latest and toughest stand against corruption".
People's Daily hails Mr Xi's calls for tougher measures against extravagance and corruption as a "political mission" to advance the entire party and nation.
Global Times likens the crackdown to a "wind of frugality" blowing out a "nouveau riche" mentality throughout society.
Meanwhile, Beijing-based journalist Zhu Ruifeng promises to continue exposing corrupt officials on his whistle-blowing website Supervision By The People after refusing to hand over sex tapes of officials to police from Chongqing, the Beijing News reports.
Commentators at The Beijing News and Global Times call on the Chongqing police to make public details of the sex tape probe and explain why they interrogated Mr Zhu.
In other corruption-related news, Beijing Times says disgraced former Chongqing chief Bo Xilai has hired two lawyers for an upcoming public trial that will take place after annual meetings of the legislature in early March.
In international news, a People's Daily Overseas Edition commentary rejects doubts over China's second successful anti-missile test on Sunday. It criticises Western military intervention and America's "casino capitalism" and "political and economic hegemony".
A bilingual Global Times editorial says the test will boost China's "missile shield" and dismisses views that the country's current military strength is adequate for self-defence.
"A major power should have the vision to make early preparations for more difficult defence tasks," the editorial stresses.
Meanwhile, experts welcome former Japanese PM Tomiichi Murayama to Beijing but tell China Daily they are uncertain whether the China-friendly politician's visit will help to ease tensions between the two countries.
Turning back to China, authorities in southern Guangdong may put an end to labour camps as early as this year, according to Nanfang Daily.
In Gansu, a party boss has been sacked for forcing villagers to buy mobile phones to "raise their intelligence", South China Morning Post reports.
In a bid to save food, People's Daily reports that restaurants will now reward diners who eat all their food or take away leftovers. China Youth Daily goes further and hopes whistle-blowers will also be rewarded for exposing officials' lavish banquets.
The Beijing News calls air pollution "alarming" as smog shrouds more than "one million square kilometres" of the country. State television shows visibility of less than a kilometre in northern Shijiazhuang and other areas.
Experts are even demanding a ban on Chinese New Year fireworks next month if the Beijing government's new anti-pollution measures fail to take effect, The Beijing News reports.
In Hong Kong, leader CY Leung Chun-ying will face a corruption investigation over the chief executive election last year, the Ming Pao and South China Morning Post report.
BBC Monitoring reports and analyses news from TV, radio, web and print media around the world. For more reports from BBC Monitoring, click here. You can follow BBC Monitoring on Twitter and Facebook.