China media: Sex videos and houses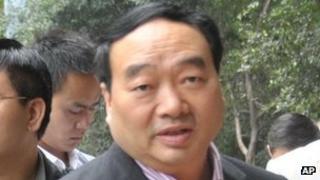 Two high-profile corruption cases dominate headlines in China's media today.
China Central Television and Xinhua news agency report that an internal party watchdog in Chongqing has handed over a sex video case, which led to the sacking of 11 officials, to judicial departments.
Chongqing district party secretary Lei Zhengfu was sacked after stills of a secretly-filmed video of him having sex with a young woman in a hotel were leaked online. The stills were reportedly taken in 2008.
Chongqing police also charged a woman who appeared in the sex videos with extortion this week, South China Morning Post reports. But she insists that she was "brainwashed" by a local construction company to secretly record herself having sex with officials to "give the firm leverage", the paper adds.
Meanwhile, Zhu Ruifeng, a Beijing journalist who exposed the stills of Mr Lei online, told state media that the videos were originally kept by the Chongqing police.
During the interview, Mr Zhu said he had more sex videos of officials and refused to hand them over to Chongqing police. He accuses the police of "sealing up" the case to protect corrupt officials.
A commentator at The Beijing News calls on the Chongqing police to reveal details of the case and explain to the public why Mr Zhu was interrogated about the sex tapes last weekend. Otherwise, "it will be difficult to completely eliminate public suspicion and even anxiety", the commentator says.
In another high-profile corruption story, Beijing police have seized properties and an Audi car belonging to Gong Aiai, a former Shaanxi banker, China Central Television reports. Ms Gong was nicknamed the "elder sister of property" for allegedly buying 41 properties in the capital using fake hukou, or household-registration identities.
"The repeated exposure of hukou counterfeiting scandals in recent months is convincing evidence that the country's household registration system is riddled with problems and needs to be streamlined," says the China Daily.
Hacking silence
In international news, most media outlets are silent on allegations of Chinese hacker attacks on The New York Times and The Wall Street Journal.
However, China's foreign and defence ministries yesterday rejected these allegations. A foreign ministry spokesman dismissed the hacking claims as "unfounded", "lacking conclusive evidence" and "totally irresponsible", Radio Television Hong Kong reported.
The spokesman's firm rebuttal, however, did not appear in Xinhua's roundup of his replies to journalists' questions. State television and newspapers have not reported on the allegations either.
An Internet search this morning came up with one terse mainland media report about the NYT hacking claims by the news portal Sina, with no mention of the allegations against Mr Wen's family.
Turning to regional news, China voices opposition to the Philippines seeking international arbitration on a South China Sea territorial dispute, China Central Television reports.
And in China, smog is starting to clear in some parts of the country, China Central Television reports. But Global Times reports over 2,000 traffic accidents in Beijing from wet weather yesterday.
South China Morning Post features photos of Beijing residents' "crazy, quick fixes" for toxic air, such as canned air. "Can you blame them for trying? You can see the pollution from space," editor Amy Li jokes.
Oil companies have also been in the "eye of the storm", but the boss of state-run oil giant Sinopec says the country's oil quality standards are to blame for pollution, Economic Information Daily reports.
Xinhua warns that anyone helping others to set themselves alight faces heavy reprisals. A Tibetan man was sentenced to death with a two-year reprieve for inciting self-immolations in protest of Chinese rule yesterday. His nephew was sentenced to 10 years in prison.
BBC Monitoring reports and analyses news from TV, radio, web and print media around the world. For more reports from BBC Monitoring, click here. You can follow BBC Monitoring on Twitter and Facebook.