China jails six Tibetans for inciting immolations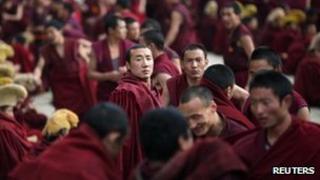 Six ethnic Tibetans have been sentenced to between three and 12 years in prison in China's Gansu province in connection with a local man's self-immolation.
Four were found guilty of "intentional homicide" at Thursday's trial and two of "picking quarrels and provoking troubles", the Xinhua agency reports.
Nearly 100 Tibetans have set themselves on fire since 2009, many fatally, in apparent protest at Chinese rule.
Activists have said the trials of those accused of helping them are a sham.
In another trial on Thursday, in Sichuan province, one man was sentenced to death with a two-year reprieve and his nephew to 10 years in prison for encouraging eight Tibetans to set themselves on fire. Three of them died but five did not ultimately carry out the act.
The convictions are believed to be the first since a legal ruling in China stipulating that anyone aiding immolations would be charged with murder.
On Friday, Lobsang Sangay, prime minister of the Tibetan government-in-exile, said such trials had "no basis or legal process".
He criticised China for giving such harsh sentences, telling the Associated Press: "These are very unfortunate trends because repression is the cause of self-immolation."
Woeser, a prominent Tibetan activist in Beijing, said the trials were an attempt to "subdue Tibetans".
"They are giving such harsh sentences to show Tibetans, and to say 'Do you still dare? If you are going to burn yourselves, this is how we will deal with you'," Reuters quoted her as saying,
Most of the self-immolations have taken place in ethnic Tibetan areas outside Tibet.
Many have involved Buddhist monks or nuns calling, Tibetan activist groups say, for greater religious freedom and the return of their exiled spiritual leader, the Dalai Lama.
Beijing says Tibet as a region is getting wealthier and that Tibetans have religious freedom. China's leaders blame the Dalai Lama for inciting the self-immolations and encouraging Tibetan separatism, a charge he strongly rejects.
Foreign media are banned from the region, making verifying the self-immolation cases difficult. Chinese state media have confirmed some but not all.