China media: Alarm over road toll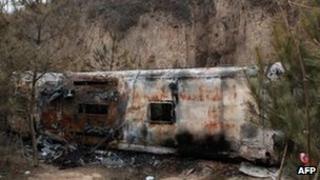 Media in China are shocked and dismayed at a spate of deadly road accidents that claimed at least 58 lives over the weekend, as the world's biggest mass migration - China's annual New Year travel rush - gets under way.
On Saturday, 12 people died after an overloaded coach tumbled down a slope in Guizhou. Another overloaded vehicle tumbled down a ravine killing seven people in Guangxi.
On Friday in Henan, 10 people died after a fireworks truck explosion caused a bridge to collapse, plunging vehicles into a ravine below. In Gansu, a bus fell into a ravine and caught fire, killing 18 people. Eleven people also died after a coach fell off a slope in Sichuan.
Bomb-disposal and defence experts say the truck that exploded on the Henan bridge was carrying enough fireworks to destroy a house, The Beijing News and Global Times note with dismay.
Global Times blames lax safety standards, drunk driving and poor road conditions for the fatal accidents and calls for stiffer penalties for overloading transport vehicles with fireworks.
"Ensuring safety during the Chinese New Year travel season should not just be a slogan," it commented.
Some newspapers are also fed up with the traditional media focus on leaders coming to the rescue at disaster scenes. Beijing Morning Post and The Beijing News say Internet users accused one official of "putting on a show" when weeping at the scene of the Henan bridge accident.
"The words and deeds of local officials at accident scenes are not newsworthy... There should be objective and comprehensive coverage of the accident itself, rather than so many 'leaders attaching great importance' to the disaster efforts," Beijing News adds.
In international news, a bilingual Global Times editorial says China is "confined by the US" and must "seize the initiative" to avert a nuclear crisis amid South Korean media predictions of an upcoming third nuclear test by North Korea.
Turning to Japan, experts tell China Daily that Japanese Prime Minister Shinzo Abe is sending "contradictory" messages following his vow over the weekend to defend Japan in an ongoing island territorial dispute with Beijing.
Mr Abe's calls coincided with the release of Chinese fishermen detained on suspicion of illegal fishing near Okinawa on Saturday, Xinhua news agency reported.
Defence experts tell Ming Pao and South China Morning Post that the Chinese military's mock skirmishes last month against an Asian enemy and an intervening English-speaking "third party force" are sending a warning to America, Japan and other Asian neighbours over territorial disputes.
"America wants China to lose face", says Global Times in its rebuttal against claims of Chinese hacker attacks by The New York Times and The Wall Street Journal last week. The Washington Post came out with similar allegations on Saturday.
People's Daily Overseas Edition accuses the US of repeatedly "putting a hacker hat onto China" as an excuse to build its own cyber army.
In other domestic news, Communist Party leader Xi Jinping vowed to combat poverty in New Year calls on remote villages in northwest Gansu yesterday. On the same day, Vice-Premier Li Keqiang promised to relocate the residents of a shantytown in Inner Mongolia, where 900 people share a toilet, according to China Daily.
Following in the wake of a recent "house sister" property scandal, authorities in Zhuhai are investigating a state company boss, nicknamed "wine brother", over internet claims that he splurged up to 80,000 yuan of public funds on 12 bottles of red wine at a banquet. Officials tell Southern Metropolis Daily that six of the bottles were "props".
BBC Monitoring reports and analyses news from TV, radio, web and print media around the world. For more reports from BBC Monitoring, click here. You can follow BBC Monitoring on Twitter and Facebook.