Chinese New Year: Quirky gadgets ease getaway pain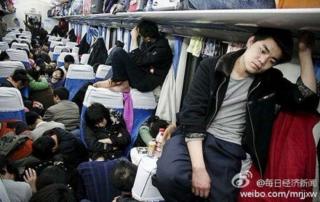 Imagine spending more than 24 hours sitting on the hard seat of a smelly, slow-moving train, surrounded by crowds of people and unable to sleep.
Or - even worse - standing with a full bladder for 36 hours because the train's washroom is full of passengers.
The pain of travelling home for Chinese New Year is an annual rite of passage for millions in China.
"I swore I would never travel by train again. Once, I even fainted under someone's seat. But, here I am again," complains one miserable passenger on Weibo, China's version of Twitter.
But not to worry - this year China's eager entrepreneurs are rushing to solve travellers' problems with a variety of wacky solutions sold on the country's main shopping site, Taobao.com.
One top seller is the "body supporter", a metal stick with small platforms to support a weary passenger's head and chest.
"This device is just like sleeping on your front in your actual bed," the online sales pitch promises.
Dozens of online sellers have sold hundreds of the sticks in the last month.
Another unlikely hit, the "mask pillow" resembles a puffy pillow-like ski mask with a hole for the wearer's mouth and nose.
"Yes, travelling sucks," an advertisement for the product laments, "but now you can have a comfortable sleep."
Costing $18 (£11) each, 1,000 mask pillows have already been sold in the past few weeks.
"I might scare people when I wear this," worries one buyer.
Other travel solutions include underwear with secret pockets for valuables and portable urine bags that allow passengers to relieve themselves without visiting the train's toilets.
One shop claims to have sold more than 6,400 urine bags in the run-up to Chinese New Year.
Face-to-face, passengers at Beijing's central train station weren't as enthusiastic about the travel devices as those shopping online.
"All those items are too bulky to take on the train," sniffed a 22-year-old student preparing to embark on a seven-hour train ride home to Changchun in China's northeast.
"When it gets really crowded on the train, there's no room for that stuff. One time, a woman was lying underneath my seat. People even climb onto the overhead luggage rack when it's really crowded."
Only 43-year-old construction worker Tian Yong thought one of the devices was a good idea.
He carefully studied the photo of a metal device that would support his neck while he slept upright and nodded his head.
"It might help me rest," he said. "Though things are much better on the trains than they used to be.
"Five years ago, my train from Shandong to Guangzhou was so crowded, I couldn't move at all. I stood for 26 hours. That was my most painful experience."
If travelling at Chinese New Year is so traumatic, why bother?
The answer is clear for Mr Tian.
"Going back home is a joyful thing," he smiles, before glancing at the train station clock and moving towards the platforms. "I have to catch my train!"