China media: Japan tensions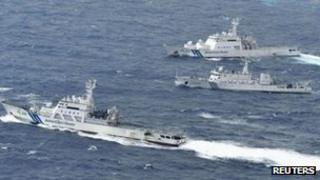 Chinese media criticise Japan for escalating territorial tensions and highlight new foreign policy challenges arising from North Korea's adamant attitude over nuclear tests.
Japan protested to Beijing on Tuesday after it said Chinese vessels put a radar lock on both a Japanese navy ship and a helicopter last month.
Global Times says the situation remains unclear since China has yet to make an official response to Japan's "one-sided arguments" and "dubious signals of war". It questions whether Prime Minister Shinzo Abe's government is exaggerating the incident to "sway public opinion".
"If the Abe administration's real intention is to implant the idea of an imminent war in the minds of the public, China also must send the same message to the Chinese public. If this is not the case, Japan should try to dispel the Chinese public's doubts and remove the harmful side-effects of its actions," a bilingual Global Times editorial concludes.
A commentary in The Beijing News says the Abe cabinet may be using the incident to hype up a "China threat" as a bargaining chip to persuade the US to "relax restraints".
Turning to North Korea, China Daily says rising regional tensions triggered by Pyongyang's plan to hold a third nuclear test are "worrying" and warns that diplomats may be unable to control the situation.
"As such, the nuclear stand-off on the Korean Peninsula seems to have entered a vicious circle, with contesting parties employing a tit-for-tat strategy and refusing to back down."
Turning to Taiwan, Global Times accuses Democratic Progressive Party (DPP) Chairman Su Tseng-chang of "flattering" Japan after he called for Taiwan and Tokyo to prevent "other countries exploiting opportunities" in the Diaoyu or Senkaku islands dispute, referring indirectly to mainland China.
The DPP hits back by blasting the mainland for deploying over 1,000 missiles against Taiwan, Taiwan's Apple Daily reports.
On a lighter note, the recent tensions with Japan appear to be boosting sales of "Tokyo Big Bang" and "I love the Diaoyu Islands" fireworks in Beijing, according to People's Net.
Ming Pao says some shops are hanging banners with slogans like "Protest the Diaoyus, Safeguard the Nation, arouse your patriotic fervour" to attract customers. "Aircraft carrier show nation's might" fireworks are also a big hit, it adds.
Meanwhile, China and Russia are not among the 30 countries on North Korean leader Kim Jong-un's Traditional New Year greeting card list published by Rodong Sinmun, The Beijing News notes.
Labour camps
Back in China, Communist Party leader Xi Jinping's calls for "expanding and deepening" the army's combat readiness during his tour of the Lanzhou Military Region earlier this week is the lead story on China Central Television.
Southwest Yunnan province has suspended approvals of the controversial laojiao re-education through labour system. Last month, southern Guangdong province said it planned to phase out the system within this year, which allows police to detain people for up to four years without an open trial, China Daily reports.
"The re-education system, established in the 1950s to rectify social order by detaining people charged with minor offences, has come in for public flak for being prone to abuse," Xinhua news agency notes.
The Beijing News applauds Yunnan's decision and hopes that other parts of the country will "accomplish this historic task as soon as possible".
Radio and television stations are banned from airing adverts on giving luxury items like watches, rare stamps and gold coins as "gifts to superiors" and "gifts to leaders", China Daily reports.
Beijing Morning Post commentator Tong Tong supports the ban and says such lavish gift-giving fuels "incorrect values and "a bad social ethos".
The government will introduce a "fifth-phase" higher-quality standard for vehicle fuel, before the end of the year, with a grace period until the end of 2017, China Daily reports.
Meanwhile, Shenzhen is restricting the number of tax-free goods that its residents can buy when visiting Hong Kong to help curb cross-border trading, especially in baby milk powder, South China Morning Post reports.
BBC Monitoring reports and analyses news from TV, radio, web and print media around the world. For more reports from BBC Monitoring, click here. You can follow BBC Monitoring on Twitter and Facebook.