China media: New Year haze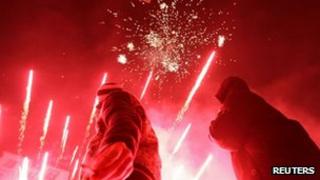 Amid celebrations welcoming the Year of the Snake, the media raise concerns over pollution again as smoky fireworks shroud many cities in thick haze.
Throughout the Chinese New Year holidays, fireworks and firecrackers are traditionally set off to ward off evil spirits when ushering in the new year. But after just two nights, the government says the PM 2.5 air pollutant index has soared in Beijing, Shanghai, Nanjing, Hangzhou, Xian and other major cities, Southern Metropolis Daily reports.
Authorities nationwide are again urging the public to refrain from setting off more fireworks tonight, the newspaper adds.
"Fewer fireworks have helped to decrease air pollution in some Chinese cities, but high readings of air pollutants have made many wonder if greater efforts need to be made," Xinhua news agency comments.
"The fireworks last only a dozen days, but the country has long been plagued by smog. Why should we change our traditions just because the government has failed to do its job during the rest of the year?" Tian Zhaoyuan, a professor at Shanghai's East China Normal University, tells Xinhua.
On Saturday night, the government counted a total of 839 fires caused by revellers setting off fireworks and firecrackers across the country on Lunar New Year's Eve. The fires caused direct economic losses of more than 6.9m yuan ($1.1m), Xinhua reports.
Beijing Youth Daily says the capital had 83 fire emergencies and 25 firework-related injuries from midnight to 0100, a year-on-year decrease of 44.6% and 28.6% respectively. The government had earlier reported a marked decrease in sales of fireworks and firecrackers in the capital.
In international news, a fleet of Chinese marine surveillance vessels were tracked by the Japanese coast guard during New Year's Day patrols near disputed East China Sea islands, called Diaoyu in China and Senkaku in Japan, Xinhua reports.
Internet users cheered the fleet for posting a New Year calligraphy couplet before setting sail that read: "Golden dragon soars and sweeps away Japanese devils", followed by "Silver snake dances vigorously to display might of China", Oriental Daily News and Haixia Dushi Bao report.
Another Chinese marine surveillance ship fleet carried out regular patrols in the South China Sea on Sunday, according to Xinhua.
The Chinese navy also held training in the West Pacific on Chinese New Year's Eve, Liberation Army Daily reported yesterday.
Turning back to New Year festivities, The Beijing News recaps the highlights of Saturday's China Central Television's New Year evening gala, one of the most-watched television shows on Earth. Canadian singer Celine Dion's duet of Chinese song Jasmine with local singer Song Zuying tops the list.
Celine Dion's performance of My Heart Will Go On from Hollywood film Titanic - a highly popular film in China - still "moved people's hearts even after 15 years", the newspaper notes.
However, some internet users were not so impressed and complain that the star-studded gala was "boring" with more "sleeping points" than "laughing points", Shaanxi News Net and Oriental Daily News report.
On a final note, train attendants grabbed microphones to stage their own gala for passengers travelling from Wuhan to Shiyan in central Hubei province on New Year's Eve.
"Having performed an exotic dance and an opening song, 26-year-old stewardess Lin Lin won resounding ovation from the few passengers in the audience," Xinhua recounts.
BBC Monitoring reports and analyses news from TV, radio, web and print media around the world. For more reports from BBC Monitoring, click here. You can follow BBC Monitoring on Twitter and Facebook.