China media: North Korea backlash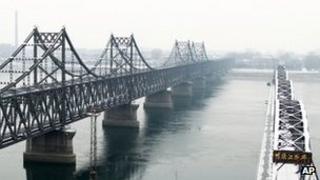 Media in China seek to calm public fears over radiation from North Korea's nuclear test drifting across the border amid an overwhelming public backlash over Pyongyang's move.
The UN Security Council's condemnation of North Korea's third nuclear test on Tuesday is also adding challenges to Beijing's role as a referee and peacemaker between Pyongyang and the US, Japan and South Korea.
The Chinese government is also having to reassure the public that their country is safe from nuclear contamination, the Beijing News reports. The test site is about 100km away from the border.
"North Korea's nuclear test has not affected China's environment or public health," read a statement by the environment ministry on China Central Television this morning.
Readings from 25 monitoring stations, on and near the border, were at normal levels at 10:00 local time yesterday, the ministry's website says.
In an interview with Xinhua, Peng Guangqian of the Chinese Academy of Military Science calls the nuclear test "regrettable" and "unwise", but reminds the international community, especially the US, to exercise restraint and take full account of North Korea's security concerns.
In the same interview, Yu Sui, professor at the China Centre for Contemporary World Studies, dismisses North Korea's test as "half helplessness and half bluff" meant at raising its "bargaining price", but also lays the responsibility on the US to sort out the crisis.
Wang Fan, an expert on Korean studies at the China Foreign Affairs University, tells China Daily that the US and its allies, Japan and South Korea, may exploit Pyongyang's nuclear test as an excuse for a military build-up in the region.
Qiao Xinsheng, a regular commentator on foreign policy at Wuhan's Zhongnan University of Economics and Law, says the Chinese military must guard against a refugee influx if the UN Security Council backs US-led air strikes on North Korea.
"North Korea is entirely to blame for where it has headed today. China has paid a heavy price amid a series of instances of nuclear blackmail," Mr Qiao writes on China Review News, a state-affiliated commentary website.
"If North Korea does not change its ways by immediately promising not to conduct further nuclear tests and rocket launches, China will no longer assume the obligation of protecting North Korea. North Korea must then face a military strike from the US alone," he warns.
Meanwhile, a senior Japanese foreign ministry official will visit Beijing next week to discuss North Korea amid ongoing tensions over disputed islands called Senkaku by Japan and Diaoyu by China.
The Chinese defence ministry insisted yesterday that three Chinese warships were conducting "routine drills" when sailing through the Miyako Strait near Japan after training in the Western Pacific, Hong Kong's Wen Wei Po reports.
Tang Chunfeng, a Japan specialist at the Ministry of Commerce, tells the newspaper that Japanese Prime Minister Shinzo Abe's government is stirring up a "China military threat" to grab votes in the crucial House of Councillors elections in July and secure more defence spending.
"Japan will not abandon the plan to purchase the islands, and China will not stop patrolling around, Prof Lian Degui, Japan specialist at the Shanghai Institutes for International Studies, tells South China Morning Post.
"But the two sides will keep talking to each other to see if they can reach a middle ground," he adds more optimistically.
In other international news, Xinhua hits back at US sanctions against Chinese defence firms, allegedly for selling items banned under US law to Iran. It says the US has not provided any conclusive evidence against the companies and should "remove discriminatory and political walls against China".
State-run giant China National Offshore Oil Co says the "last major obstacle" to its acquisition of Canada's Nexen has been removed after its proposed takeover did not encounter opposition by the US Committee on Foreign Investment yesterday, Xinhua adds.
Besides fears of radiation drifting over the borders, Beijingers are being warned of rising "hazardous" air pollution despite fewer fireworks over the Chinese New Year holidays, according to Xinhua.
Pollution in Shanghai and other eastern regions is also rated as "unhealthy".
And finally, the ruling Communist Party's news website yesterday denounced Valentine's Day as a breeding ground for decadence and corruption from the West, Hong Kong's Apple Daily reports.
However, Ming Pao says the few marriage registry offices that are still open during the Chinese New Year holidays on the mainland are working overtime to meet a massive demand for Valentine's Day weddings today.
BBC Monitoring reports and analyses news from TV, radio, web and print media around the world. For more reports from BBC Monitoring, click here. You can follow BBC Monitoring on Twitter and Facebook.