China media: Pollution strikes again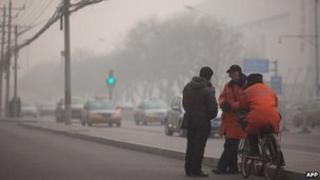 Environmental concerns dominate the media in China as newspapers warn of the dangers of toxic smog and polluted underground water.
China Central Television and The Beijing News report a return of moderate to severe air pollution in 74 cities due to bad weather and firework celebrations during the Chinese New Year holidays last week.
The worst affected city was Shijiazhuang, capital of northern Hebei province. Early on Sunday morning around Beijing, major highways were closed temporarily and over 177 flights were cancelled due to poor visibility.
"The visibility at Beijing Capital International Airport at one point fell to five to 10 metres, delaying some flights," Xinhua news agency reports.
The Global Times warns of "danger signals" after Chinese scientists find a "large number of toxic and hazardous particles" in polluted air samples from Beijing and Tianjin in January that are similar to deadly smog in Los Angeles and London in the 1950s.
Besides worsening air quality, the Southern Metropolis Daily flags up a government survey showing that over 90% of the nation's groundwater is polluted to varying degrees, with severe pollution found in over 60% of the sources.
The Beijing Times and The Beijing News welcome moves by the government in Weifang, Shandong, to offer big rewards of up to 100,000 yuan (£10,300, $16,000) for whistleblowers exposing companies illegally pumping emissions underground
Internet users earlier posted tip-offs on the web that some factories in Weifang have allegedly been pumping polluted water some 1,000 metres below ground, Global Times and Xinhua report.
In international news, Luo Yuan, a retired major-general who is considered to be a military hard-liner, accuses Japanese military aircraft of flying dangerously close to Chinese government aircraft patrolling near disputed islands on 30 January.
"Recently, Japanese F15J fighter jets approached to within five metres of the wing of a Chinese Y-8 patrol plane. The slightest mistake would have destroyed the planes and people's lives," Retd Maj-Gen Luo writes in the People's Daily Overseas Edition.
The Japanese government had earlier protested that the Chinese navy aimed weapons-guiding radar at a Japanese destroyer on 30 January and a military helicopter on 19 January.
Retd Maj-Gen Luo dismisses Japan's allegations and insists that radar would have only been used as a warning, rather than as preparations for an attack. He also criticizes the Chinese navy for not raising an alert at the time.
"Our warships still did not raise an alert and warning over a confrontation at such a close distance between military aircraft and warships. That was a dereliction of duty," Retd Maj-Gen Luo says.
"Who stipulated that only Japan is allowed to engage in provocation, while we are not allowed to defend ourselves?... In the East China Sea, we should stipulate a safe distance range from China for the Japanese!" Retd Maj-Gen Luo warns.
Hong Kong's Apple Daily notes that this was the first time that the Chinese military had revealed an alleged potential collision between Chinese and Japanese aircraft.
Meanwhile, a bilingual Global Times editorial says China should punish North Korea for its nuclear test last week but also avoid turning its neighbour into an enemy and playing into the hands of the US and Japan.
"The reduction in China's assistance to North Korea shouldn't be more prominent than the increase in sanctions by the US, Japan and South Korea. This should be the bottom line for China to participate in international sanctions against North Korea," the editorial says.
While criticizing Pyongyang's nuclear test, Chinese experts believe Washington is mostly to blame for rising tensions on the peninsula and it must review its policies, China Daily reports.
In other regional news, retired diplomat Wu Zhenglong says the Philippines has failed to win international support for its appeal for United Nations mediation in its maritime territorial dispute with China last month.
"So what's the reaction of all sides after three weeks? The answer is that nobody cares. What the Philippines is singing is merely a 'one-man act'," Mr Wu writes in the Beijing Times.
Back in China, People's Daily Overseas Edition speaks out against an "extreme leftist path" leading China astray and makes a frank admission on the mistakes of the Great Leap Forward and the Cultural Revolution during the mid-1950s to 1970s.
"The extreme leftist path made China's path suffer losses," the commentary stresses. The newspaper also warns of "four dangers" threatening the party's legitimacy: slack spirits, insufficient ability, being divorced from the masses and corruption.
Elsewhere, villagers are returning to their homes after a reservoir partially collapsed in Shanxi province on the weekend causing more than 10,000 residents to flee their flooded homes, China Daily reports.
Oriental Morning Post reports that authorities in Shanghai are stepping up inspections after discovering cheap brands of 21 different school uniforms containing toxic dye.
Following a recent series of scandals of officials using multiple identities to buy property, the Southern Metropolis Daily says authorities in various cities across the country are requiring owners to provide more personal information when publicly registering properties.
A state-run think-tank's survey of residents in seven major cities reveals that trust in society has fallen further to a record low, according to China Daily.
The Blue Book of Social Mentality, issued by the Chinese Academy of Social Sciences, says wariness towards strangers and even mistrust of government officials and doctors has grown.
A Chinese shipyard is planning to build a replica of the ill-fated Titanic for an Australian billionaire, China Daily reports.
Global Times says the venture is a chance for Made in China to prove critics wrong amid widespread scepticism among Chinese internet users.
In Hong Kong, a "banner war" between the Falun Gong, a spiritual movement banned on the mainland, and opposition groups is escalating as both camps try to cover up each others' banners around the city, South China Morning Post reports.
BBC Monitoring reports and analyses news from TV, radio, web and print media around the world. For more reports from BBC Monitoring, click here. You can follow BBC Monitoring on Twitter and Facebook.