China media: Anger against Abe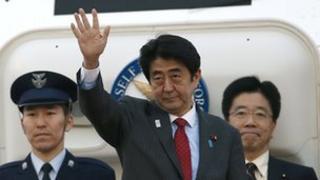 Newspapers in China criticise Japanese Prime Minister Shinzo Abe, who they accuse of seeking US support over the territorial row.
Global Times believes Mr Abe has "ulterior motives" linked to the islands' row when he calls for a stronger US-Japan alliance.
"He probably wants the US-Japan alliance to serve the interests of Japan by helping Japan to become a 'normal country' and give direct backing to Japan on the Diaoyu [Senkaku] Islands issue to suppress China," the editorial says.
"However, not everything will go as smoothly as Abe hopes. Japan is just a pawn of US global strategy. The US needs Japan to serve as its gun bullet and it is unlikely to give Japan the gun," it adds.
People's Daily says China is also "astounded" at Mr Abe's vow to prevent Beijing infringing on his country's territory in an interview with the Washington Post.
In the interview Mr Abe said Beijing had a "deeply ingrained" need to challenge Japan and other neighbours over territory to strengthen domestic support.
Prof Lian Degui, a Japan expert at the Shanghai Institute of International Studies, also tells People's Daily that Mr Abe may undermine relations if he tries to "pull the US into the water" and push Washington to take sides in territorial disputes.
Experts in China Daily and Liberation Daily say Mr Abe's talks with US President Barack Obama in Washington on Friday may stall due to conflicting policy agendas.
"Absurd speculation"
Meanwhile, media in China continue to express anger at the US for accusing Beijing of "industrial cyber-espionage".
A bilingual Global Times editorial and Oriental Morning Post raise suspicions about the US targeting China with tougher measures against international theft of US trade secrets.
The new measures follow US firm Mandiant's report on Monday alleging that a Chinese military unit are behind cyber-attacks on US websites.
"This is a prominent example of the US government and a non-governmental institution combining to target China," the Global Times editorial says.
The newspaper also criticises certain media and members of the public for being pro-West and pro-American, and says the government has not taken a tough enough stance against hacking allegations.
Officials at the defence ministry's publicity department writing in the People's Daily Overseas Edition dismiss claims by US companies and media about a Chinese hacker threat as "laughable" and "unprofessional absurd speculation".
Experts tell China Daily that interest groups and the government in the US are hyping Mandiant's allegations against China for commercial interests and geopolitical dominance.
In other international news, Liberation Army Daily says China impressed Middle Eastern countries with its missiles, warships, drones and other weaponry at recent expos in Abu Dhabi.
Tomb removal
Turning to domestic news, the People's Daily Overseas Edition devotes its front page to Xinhua news agency's praise of the new Communist Party leadership's achievements on its 100th day in office today.
An investigation into Gong Aiai, a former banker in Shaanxi nicknamed "House Sister" for allegedly buying multiple properties with forged identities, is under way, Beijing Times reports.
Meanwhile, a food official in Luliang in Shanxi has had demerits after internet users exposed photos of a luxury sofa and toilet and a double bed in his office, Xinhua reports.
Internet users are outraged by the early release on parole of a Shanxi official who was jailed for accepting bribes, Hong Kong's South China Morning Post reports.
Authorities in Zhoukou in Henan province have started a controversial second tomb-removal campaign to free up more arable land and are warning villagers of legal reprisals if they refuse to level graves, The Beijing News reports.
At a pollution seminar yesterday, experts said smog reached "extreme danger" levels in central and eastern China last month, People's Daily reports.
Industries will have to "pay the bill" for pollution through a mandatory liability insurance pilot scheme launched in 11 provinces and regions, People's Daily adds.
The Beijing News and internet users criticise environmental officials in Wenzhou, Zhejiang, for promoting their achievement in a full-page advertisement in a local newspaper.
Environmental officials have recently been offered cash rewards by locals to swim in polluted rivers.
In Beijing, homeless petitioners thank the US embassy for inviting them to watch foreign films, despite not being able to understand English, Ming Pao reports.
Over 100 petitioners from across the country staged a mass demonstration at the capital's south railway station earlier in the week, the newspaper adds.
While visiting Hong Kong, leading liberal intellectual Cao Siyuan calls for China's constitution to remove the Marxist term "people's democratic dictatorship led by the working class" to better respect citizens' rights, South China Morning Post reports.
Beijing's chief representative in Hong Kong, Zhang Xiaoming, publicly acknowledges "occasional, minor conflicts" between Hong Kong residents and mainlanders, but says recent tensions do not reflect developing ties between both sides, Apple Daily and Ta Kung Pao report.
And finally, South China Morning Post pays tribute to Fauja Singh, aged 101, who will retire as the world's oldest marathon runner after his final race in Hong Kong this Sunday.
BBC Monitoring reports and analyses news from TV, radio, web and print media around the world. For more reports from BBC Monitoring, click here. You can follow BBC Monitoring on Twitter and Facebook.